Yakitate!! Japan: Volume 7
By Leroy Douresseaux
September 7, 2007 - 12:55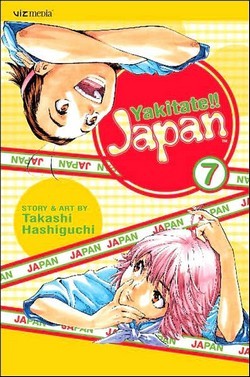 Thanks to barnesandnoble.com for the image.
Yakitate!! Japan
, a manga series by
Takashi Hashiguchi
, follows
Kazuma Azuma
, a 16-year-old baker who moves to Tokyo with dreams of creating a national bread for Japan. He earns a job at the
South Tokyo branch
of Japan's premier bread chain,
Pantasia
. There, Kazuma finds himself part of a team that includes
Tsukino Azusagama
(the granddaughter of Pantasia's founder), fellow student
Kyosuke Kawachi
, and store manager, the afro-wearing, bread-making, warrior philosopher,
Ken Matsuhiro
.
Yakitate!! Japan, Vol. 7 begins during the last round of the 39th Annual Pantasia Rookie Tournament, a contest to showcase the best new talent working for the Pantasia chain, which Kazuma won. One of the prizes that comes with winning the tournament is a chance to work for the main branch, but Kazuma decides that he wants to stay at South Tokyo. They'll need his otherworldly talents.
South Tokyo is close to being sold to a rival bakery chain. Shigeru Kanmuri, South Tokyo's newest employee and the runner up finisher to Kazuma at the rookie tournament, has a plan to save the bakery. It involves a trip to the Principality of Monaco and entering the Monaco Cup, and also a victory that will depend upon gambling as much as it does on baking skills.
THE LOWDOWN: Placed in the world of competitive break baking, Yakitate!! Japan has one of the strangest concepts and settings ever for a comic book. However, even a unique concept can grow stale after a while. Takashi Hashiguchi has kept that from happening by exploiting practically every kind conflict that can happen when two or more people come together. Student rivalries, workplace romance, corporate intrigue, family betrayal, employee infighting, competition, etc: Hashiguchi creates, manipulates, and intricately links a maze of plotlines and conflicts that trap the reader like an addiction. Yakitate!! Japan has a superb cast of colorful characters, but its clever, engaging dramatic conflicts keep this oddball concept running.
POSSIBLE AUDIENCE: Readers who enjoy the diversity of Japanese comics will find that Yakitate!! Japan exemplifies much of what makes manga fun.
B+
Spend bread at the Amazon aStore.
Last Updated: September 6, 2021 - 08:15