Yakitate!! Japan: Volume 10
By Leroy Douresseaux
March 12, 2008 - 12:07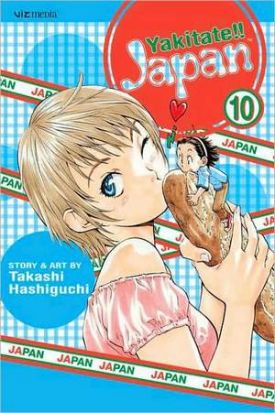 Thanks to barnesandnoble.com for the image.
YAKITATE!! JAPAN, VOL. 10
In the manga series Yakitate!! Japan by Takashi Hashiguchi, Kazuma Azuma, a 16-year-old baker, moves to Tokyo with dreams of creating a national bread for Japan. His other-worldly baking powers earn him a job at the South Tokyo branch of Japan's premier bread chain, Pantasia. There, Azuma becomes part of a team that includes Tsukino Azusagama (the granddaughter of Pantasia's founder), fellow student Kyosuke Kawachi, and store manager – the afro-wearing, bread-making, warrior philosopher, Ken Matsuhiro.
As Yakitate!! Japan, Vol. 10 begins, Team Pantasia has spent a harrowing week of intense competition at the Monaco Cup, determined to win the world's premiere bread-making event. The home team, the representatives of France, don't want them to win and have used their influence to put Team Pantasia in perilous situations. Now, the contest has moved to rural Mexico, but Azuma and his teammates end up in the Huautla Cave in Mexico, one of the deepest and most dangerous caves in the world. Now, they have to do some serious subterranean baking and also find their way out of a place that takes lives.
THE LOWDOWN: Manga-ka Takashi Hashiguchi has turned the culinary arts into an engaging comedy that travels between screwball and surreal and wacky and weird. The mixture of comedy and the science and mechanics of making bread is both impressive and admirable. Hashiguchi's draftsmanship is uncanny (considering how abstract manga art can be) and his sharp style is reminiscent of Darwyn Cooke's.
POSSIBLE AUDIENCE: For the gourmet manga fan.
B
Last Updated: September 6, 2021 - 08:15