Yakitate!! Japan: Volume 17
By Leroy Douresseaux
May 23, 2009 - 09:59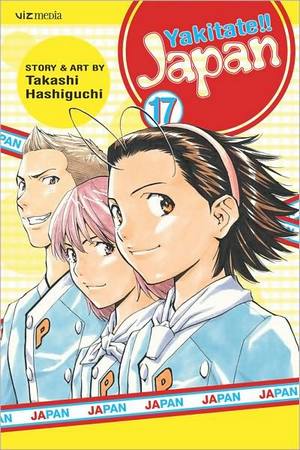 Yakitate!! Japan Volume 17 cover image is courtesy of barnesandnoble.com.
Rated "T+" for "Older Teen"
16-year-old baker, Kazuma Azuma dreams of creating a national bread, so that the Land of the Rising Sun will have its own "doughy gastronomic delight" like European countries. Azuma's unworldly baking powers earn him a job with Japan's premier bread chain, Pantasia, where he competes in bread making contests and works on his "Ja-pan," what he hopes will become the national bread of Japan.
As Yakitate!! Japan, Vol. 17 begins, Team Pantasia (Azuma, Kyosuke Kawachi, and Shigeru Kanmuri) is coming off a resounding second round victory at the televised baking contest, Yakitate 25. The contest requires baking teams to travel to various regions of Japan and bake breads using ingredients and products unique to each region. In a shocking revelation, Team Pantasia learns that their third round opponent is none other than their former teammate, the samurai-turned-baker, Kai Suwabara, who is now disguised as a ninja!
The surprise reveals don't stop. Shigeru Kanmuri is the son of a yakuza boss, and now, it may be his turn to be the boss.
THE LOWDOWN: The weirdness missing in the sixteenth volume of Yakitate!! Japan returns in the seventeenth. That manga-ka Takashi Hashiguchi has created a successful manga about bread making is itself amazing, but that he has also created so many out-there characters is genius. Yakitate!! Japan is reliably and consistently weird and unfailingly good.
POSSIBLE AUDIENCE: Readers who go for exceptional and unusual material will find it in Yakitate!! Japan.
A-
Last Updated: September 6, 2021 - 08:15