Yakitate!! Japan: Volume 12
By Leroy Douresseaux
July 5, 2008 - 20:54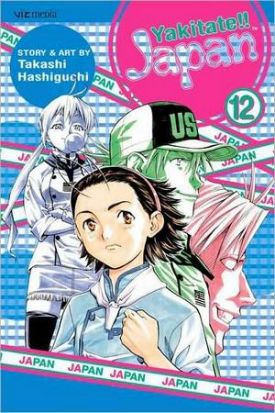 Thanks to barnesandnoble.com for the cover image to Yakitate!! Japan 12.
Rated "T+" for "Older Teen"
16-year-old baker, Kazuma Azuma dreams of creating a national bread for the land of the Rising Sun – a bread he calls "Ja-pan." His other-worldly baking powers earn him a job at the South Tokyo branch of Japan's premier bread chain, Pantasia. There, he does his best to help save the bakery by producing unique, distinctive, delicious breads.
In Yakitate!! Japan, Vol. 12, Japan's representatives, Team Pantasia (Azuma, Kyosuke Kawachi, and Kai Suwabara), have reached the finals of the Monaco Cup, the world's premiere bread-making event. Now, they must take on the Americans – a trio of formidable talents that could very well have the edge on Team Pantasia. First up, Suwabara takes on the bikini-clad tease, Monica Adenauer, in a contest to see who can make a "couture" bread – or bread that tastes great, but also looks divine. Suwabara should have the edge, but Monica's talents in creating gloriously designed candy could have Team Pantasia on the verge of elimination.
THE LOWDOWN: This volume of Yakitate!! Japan is fun to read because it focuses primarily on the baking battle between modern samurai/baker Suwabara and the coquettish, confectioner Monica. At first glance, that doesn't seem like a scenario from which to mine comic gold. Somehow the contrast of the stern Suwabara with his rigid adherence to the samurai code and the surprisingly sharp Monica with her gorgeous body (which she flaunts to get her way) simply turns out to be winning.
POSSIBLE AUDIENCE: If the comic book arts could produce a work of culinary art, Yakitate!! Japan would be it, and fans of smart comedy will gladly dine on it.
A-
Last Updated: September 6, 2021 - 08:15