Yakitate!! Japan: Volume 11
By Leroy Douresseaux
May 18, 2008 - 08:08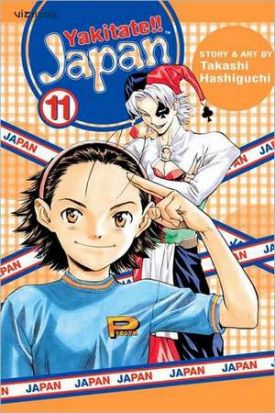 Thanks to barnesandnoble.com for the cover image of Yakitate!! Japan, Vol. 11
Rated "T+" for "Older Teen"
In the manga series Yakitate!! Japan by Takashi Hashiguchi, 16-year-old baker, Kazuma Azuma dreams of creating a national bread for the land of the Rising Sun. His other-worldly baking powers earn him a job at the South Tokyo branch of Japan's premier bread chain, Pantasia, where he also does his best to help save the bakery.
In Yakitate!! Japan, Vol. 11 begins, Japan's representatives, Team Pantasia (Azuma, Kyosuke Kawachi, and Kai Suwabara), has reached the semifinals of the Monaco Cup, the world's premiere bread-making event. The Kaysers, the home team and the representatives of France, don't want Pantasia to win and have used their influence to put Team Pantasia in perilous situations. Now, however, the Kaysers must face Azuma and company in fair competition. Can Pantasia beat the defending champs and the man who is arguably the world's greatest bread baker, the freaky Gran Kayser?
THE LOWDOWN: With each volume, the brilliance of manga-ka Takashi Hashiguchi becomes more evident. Not only has he turned the culinary arts into an engaging comedy that is screwball, surreal, wacky, and weird, he has also created an ever-growing cast that is half freak show and half amazing. That's not all; the characters are always offering something surprising. If that weren't enough, Hashiguchi and his creative staff draw with amazing precision and their beautifully rendered art is gourmet food for the eyes.
POSSIBLE AUDIENCE: Readers who go for exceptional material that sets itself apart in terms of imagination and execution will find that in Yakitate!! Japan.
A-
Last Updated: September 6, 2021 - 08:15