Yakitate!! Japan: Volume 8
By Leroy Douresseaux
October 30, 2007 - 15:05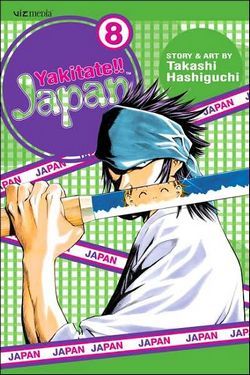 Thanks to barnesandnoble.com for the image.
Yakitate!! Japan, a manga series by Takashi Hashiguchi, stars Kazuma Azuma, a 16-year-old baker who moves to Tokyo with dreams of creating a national bread for Japan. Blessed with other-worldly baking powers, Azuma earns a job at the South Tokyo branch of Japan's premier bread chain, Pantasia. There, Azuma finds himself part of a team that includes Tsukino Azusagama (the granddaughter of Pantasia's founder), fellow student Kyosuke Kawachi, and store manager, the afro-wearing, bread-making, warrior philosopher, Ken Matsuhiro.
Yakitate!! Japan, Vol. 8 opens in the Principality of Monaco for the Monaco Cup Exhibition, a prestigious bread tournament. Representing Japan is a team from Pantasia with Azuma, Kawachi, and former rival, Kai Suwabara, as the designated bakers. Kawachi and teammate Shigeru Kanwuri hatch a scheme to make a decorative bread that would put the rest of the exhibition's field on notice that Japan is to be reckoned with and also earn some extra points, but the life-sized bread sculpture is a horrible bomb.
Meanwhile, the French representatives, the bird-masked/human totems, Kayser, are angling to remove Azuma and friends. However, Azuma's Ja-Pan No. 21 and Suwabara's "Lu-Pan" No. 3 are game. Meanwhile, back at the ranch (South Tokyo branch), two powerful forces move to ruin Pantasia.
THE LOWDOWN: That a manga about competitive bread making could be as engaging as any pot-boiling genre still boggles the mind, but the added bonus is manga-ka Takashi Hashiguchi's stunning art: a combination of superb figure drawing, highly inventive character design, and tight draftsmanship. (He must have several assistants working on the strip with him!) The introduction of weirdo characters, one of the many treats that Yakitate!! Japan offers in just about every other chapter, continues with Pierrot Bolnez – the master of ceremonies, court jester, and sole judge who can multiply himself.
POSSIBLE AUDIENCE: This surreal tale of competition and intrigue is a manga lover's manga.
A-
Last Updated: September 6, 2021 - 08:15