Yakitate!! Japan: Volume 26
By Leroy Douresseaux
April 6, 2011 - 11:20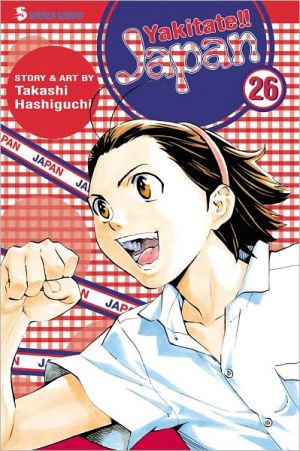 Yakitate!! Japan Volume 26 cover image is courtesy of barnesandnoble.com.
Rated "T+" for "Older Teen"
England, France, and Germany have their own distinctive breads, so 16-year-old baker, Kazuma Azuma, wants to give Japan its own unique bread. Azuma's incredible baking powers earn him a job at Japan's premier bakery chain, Pantasia. Azuma competes in bread making contests around the world, while working on his "Ja-pan," what he hopes will become the national bread of Japan.
With Yakitate!! Japan, Vol. 26, the series comes to an end. It's Yuichi Kirisaki, now a bread demon, versus Azuma, and only Azuma's Ja-pan can save the day and maybe, Kirisaki. Can the boy wonder of bread making finally create a signature bread for Japan? It doesn't end there. Azuma and friends travel to the Maldives where Azuma must create a bread that will help stop global warming.
THE LOWDOWN: While this final volume of Yakitate!! Japan doesn't have as many inventively designed weirdos as most story arcs do, the weirdness is in full effect. Creator Takashi Hashiguchi always offered readers a truly unique comic book reading experience. During the first three or four decades of their existence, American comic books gave readers a sense of wonder and newness and a journey into the bizarre and amazing. That is present in Yakitate!! Japan. Just because it is over does not mean the fun is over. Unlike bread, Yakitate!! Japan will never, ever turn stale.
POSSIBLE AUDIENCE: Readers looking for a culinary manga delight should start with the first course and go back to the beginning of Yakitate!! Japan.
A-
Last Updated: September 6, 2021 - 08:15