Yakitate!! Japan: Volume 16
By Leroy Douresseaux
May 20, 2009 - 10:27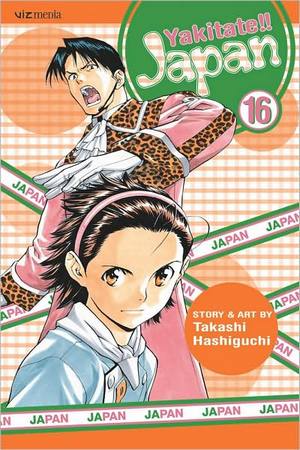 Yakitate!! Japan Volume 16 cover image is courtesy of barnesandnoble.com.
Rated "T+" for "Older Teen"
As Yakitate!! Japan tells it: many European nations are known for their distinctive breads, but Japan, a nation of rice and seafood, is not. Sixteen-year-old baker, Kazuma Azuma dreams of creating a national bread for the land of the Rising Sun. His other-worldly baking powers earn him a job at the South Tokyo branch of Japan's premier bread chain, Pantasia. He does his best to help save the branch, but also works on his "Ja-pan," what he hopes will become the national bread of Japan.
As Yakitate!! Japan, Vol. 16 begins, Team Pantasia (Azuma, Kyosuke Kawachi, and Shigeru Kanmuri) is coming off its opening round victory at the national bread baking contest, Yakitate 25. Pantasia's first round opponent, CMAP, the celebrity baking team of the renowned bakery, St. Pierre's, also becomes their second round opponent. The competition moves to the city of Saito, and the bread for this round must feature an ingredient that is native to the area. After the two teams settle on mango as the ingredient, they must figure out a way to use the fruit without having its juices make the bread soggy. Can Azuma pull off another miracle?
THE LOWDOWN: It's been several months since I've read a volume of Yakitate!! Japan, and I return to find that this manga of the culinary arts is still an engaging comedy of the screwball, surreal, wacky, and weird varieties. The cast, which is usually an ever-growing freak show, has stabilized for the stories in this tankoubon (collection). As usual, the art by Takashi Hashiguchi features impeccable figure drawing and solid storytelling. Best of all, this is a story of culinary competition with all the punch of a Hollywood blockbuster comedy.
POSSIBLE AUDIENCE: Readers who go for exceptional and unusual material will find it in Yakitate!! Japan.
B+
Last Updated: September 6, 2021 - 08:15