Yakitate!! Japan: Volume 21
By Leroy Douresseaux
January 5, 2010 - 10:58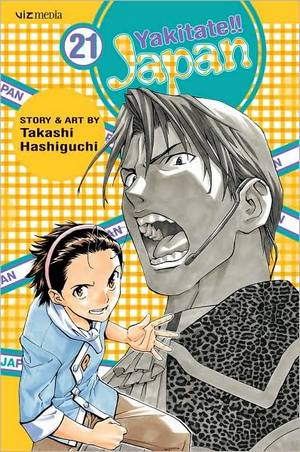 Yakitate!! Japan Volume 21 cover image is courtesy of barnesandnoble.com.
Rated "T+" for "Older Teen"
Countries like England, France, and Germany have produced their own distinctive breads, so 16-year-old baker, Kazuma Azuma, wants to give Japan its own unique bread. Azuma's unworldly baking powers earn him a job with Japan's premier bakery chain, Pantasia. Azuma competes in bread making contests around the world and also works on his "Ja-pan," what he hopes will become the national bread of Japan.
As Yakitate!! Japan, Vol. 21 begins, the seventh round of the Yakitate!! 25 baking competition continues with a full-on pancake making contest. Team Pantasia's (Azuma, Kyosuke Kawachi, and Tsukino Azusagawa) opponent is the formidable van der Hesselink, AKA Chef Heh, a world-champion confectioner whose talents are suited for the pancake battle. The winner must create a pancake that retains its moisture on the inside while being crispy on the outside. It will take a trip to the toilet to pull this one out for Azuma and company.
Even if they win, waiting in the wings is Marco Ciccolini, the Child of the Gods, and a great pizza battle.
THE LOWDOWN: Practically always a wellspring of weirdness, Yakitate!! Japan is the two-fisted spokesman of food culture comic books. You may be surprised to learn that there are food culture comics, but Japanese creators have turned out delights built around the culinary arts like Kitchen Princess, Mixed Vegetables, and Oishinbo. With its surreal twists and superhero bakers, Yakitate!! Japan makes food a legitimate comic book genre.
POSSIBLE AUDIENCE: Shonen manga readers looking for unusual material will find it in Yakitate!! Japan.
B+
Last Updated: September 6, 2021 - 08:15