Yakitate!! Japan: Volume 24
By Leroy Douresseaux
November 24, 2010 - 09:54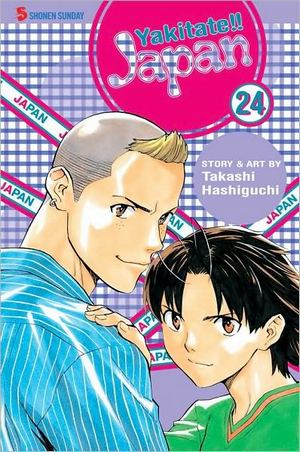 Yakitate!! Japan: Volume 24 cover image is courtesy of barnesandnoble.com.
Rated "T+" for "Older Teen"
Because countries like England, France, and Germany have their own distinctive breads, 16-year-old baker, Kazuma Azuma, wants to give Japan its own unique bread. Azuma's incredible baking powers earn him a job at Japan's premier bakery chain, Pantasia. Azuma competes in bread making contests around the world, while working on his "Ja-pan," what he hopes will become the national bread of Japan.
As Yakitate!! Japan, Vol. 24 opens, the 11th round of the Yakitate!! 25 baking competition comes to an end with a miraculous, transformational victory by Kazuma. Now, the next step is to save Kazuma's opponent, Kirisaki, but Kazuma can't do it alone. He'll need teammate Kyosuke Kawachi. Kazuma will also need the assistance of a relative who despises him.
THE LOWDOWN: Last time, I described Yakitate!! Japan as being practically a wellspring of weirdness, but it is also a fountain of imagination. Simply describing Yakitate!! Japan as a manga about bread making or a foodie comic book does not even scratch the surface of what this title offers. Creator Takashi Hashiguchi can take a single idea and turn it into an escapade of strangeness that is inimitably entertaining.
POSSIBLE AUDIENCE: Readers looking for a tasty manga treat will find it in Yakitate!! Japan.
A-
Last Updated: August 31, 2023 - 08:12