Comics / Manga / Yaoi Manga
Love Hurts: Aishiatteru Futari (Boys' Love)
By Leroy Douresseaux
January 27, 2010 - 14:07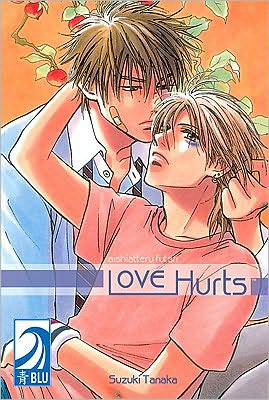 Love Hurts cover image is courtesy of barnesandnoble.com.
Comedy/Romance Rated "OT" for "Older Teen"
Love Hurts is a boys' love short story collection from Suzuki Tanaka. Boys' love depicts romantic love between male characters, but the stories don't have to be strictly romance, as there are boys' love stories placed in science fiction, dark fantasy, and horror settings. There are four stories in Love Hurts, and all of them offer boys' love with a twist of some sort. In fact, the book's final tale isn't even boys' love, but is instead a boy-girl love story with an odd female lead and seems like an episode of The Twilight Zone.
The opening story, "Unforgivable," revolves around the murder of Sumiyoshi Tomo, an apparently gay lothario who is killed just before the story opens. Although visitors to Tomo's apartment find an apparently spurned lover named Koji with blood on his hands and face, there is some question as to the identity of Tomo's killer. The story reads as if it should be a graphic novel rather than a short story; the story, even undeveloped as it is, has some good ideas and characters.
The second story, "Two in Love," and the aforementioned "Kanako's Story," have interesting premises with quirky plots, but offer unsatisfying payoffs. The latter involves a girl named Kanako, who claims to speak with alien visitors, and Shouta, a fellow high school student and friend who has long hidden his romantic yearnings for Kanako.
The best story of this quartet, by far, is "The Fate of a Crime Fighters' Love." It offers the interesting premise of a Japanese village where the people are all born with super powers. Twenty-two-year-old Seigo Amagi left Koisaka Village to live in Tokyo, where he works in an office and occasionally tries to be an actual superhero. He has no success at it; in fact, one evening, Seigo is about to get his butt kicked when Touma, a former friend visiting from back home, saves him. The story involves some internal mythology, but the real story is the relationship and unfinished business between Seigo and Touma.
A joy to read, "The Fate of a Crime Fighters' Love" is one of the odder manga short stories that I've ever read, because it seems so not Japanese. Some may recognize that this reads and looks like early Jaime Hernandez Love & Rockets comics, especially the Penny Century and superhero stories. Tanaka's drawing style is as much Hernandez and Matt Wagner as it is manga. I would say that "The Fate of a Crime Fighters' Love" is such a fine read that it alone makes Love Hurts worth its cover price.
B+
Last Updated: August 31, 2023 - 08:12