Comics / Manga / Yaoi Manga
Clear Skies! 2 (Boys' Love)
By Leroy Douresseaux
March 9, 2009 - 13:17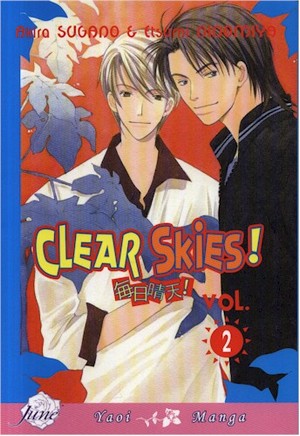 Clear Skies 2 cover image is courtesy of Anime Castle Books.
Drama/Romance; Rated "YA" for "Young Adults 16+"
Shuu Asuou married Shima Obinata, so he moved into the Obinata family home while Shima went away for a while. Shuu's adopted son, Yuuta, joined him, and the two gradually adjusted to living with four guys they hardly knew. There are complications, however, Shuu went to high school with Taiga Obinata, and they were once almost… lovers.
As Clear Skies, Vol. 2 opens, Taiga wants Shuu to leave the Obinata household because he fears that his three other brothers are becoming more attached to Shuu. What Taiga really fears is that he's never gotten over his own feelings for Shuu. Then comes the big shock. Shuu and Shima's wedding isn't registered in the Obinata family records. In fact, where is Shima? To answer these questions and to solve these dilemmas, Shuu, Yuuta, and the Obinatas may just have to discover what things besides blood relationships make a family.
THE LOWDOWN: Boys' love (BL) meets family drama in Clear Skies!, a two-volume BL series from manga-ka (creator) Etsumi Ninomiya and adapted from the original novel by Akira Sugano. This is a gentle, almost genteel romance about young men discovering their feelings for one another – both romantic and familial – in a quiet, intimate manner. Sometimes, this quietude works against the narrative, making some scenes a little too dry.
However, Ninomiya's adaptation is mostly good – a light sweet confection made all the sweeter by her lovely art. She is very good at cartooning the human figure, but her delicate, smooth line gives her male characters beautiful faces without them coming across as too cute or even girlish. This really pretty art makes up for some of the story's shortcomings.
POSSIBLE AUDIENCE: BL fans looking for a cozy family drama with light comedy will find love in these Clear Skies!
B+
www.digitalmanga.com
www.emanga.com
Shop for Yaoi Delights.
Last Updated: August 31, 2023 - 08:12