Comics / Manga / Yaoi Manga
You & Me, Etc. (Boys' Love)
By Leroy Douresseaux
January 26, 2011 - 09:19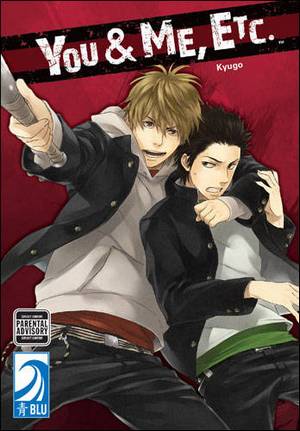 You and Me, Etc. cover image
Rating: "M" for "Mature"
You & Me, Etc. is a collection of boys' love short stories from a creator called, Kyugo. The five stories focus on three couples.
In "Someday We…" and the title story, "You & Me, Etc.," high school student Iku Kirishima blames himself for the accident that took away the baseball career of his friend, Keita Kanai. Keita, however, is ready to move on and encourages Iku to continue playing baseball. But can Iku see what Keita really wants?
In "Cherry Blossom Pilgrimage," Takahisa Sugaya, a high school junior, is a lady killer, but that doesn't stop him from noticing another popular guy, Yuu Fujishiro. Yuu is an honor student and a master of both academics and sports. When Takahisa comes upon a shocking scene, he discovers that Yuu has mastered another surprising skill.
In the two-part "A Beautiful Tomorrow," Tatsushi Kuwahara is a popular young author who discovers a young man passed out drunk at his doorstep. The young man surprises Tatsushi by revealing his name, Akira Shinozaki, because Akira is related to someone important in Tatsushi's past. This begins a journey to Akira's home and a chance for Tatsushi to pay it forward.
THE LOWDOWN: In spite of You & Me, Etc.'s rating ("M for Mature"), this book is safe for older teen readers, unless someone is panicky about a teen reading a comic book about young gay love. That is what You & Me, Etc. is about, fresh, new, burgeoning gay love. It is free of graphic depictions of sex and almost free of even heavy petting.
These are sweet-natured romantic tales, not sentimental, just gentle. Romance walks hand in hand with shyness, quiet longing, and kindly stubborn denial. Kyugo's soft compositions are perfectly in tune with a graphic design style that emphasizes close-ups, thoughtful expressions, and awkward emotions. Even the title, You & Me, Etc., reflects an attitude that once two people are together, whatever happens will happen to be love.
POSSIBLE AUDIENCE: Readers looking for boys' love about young first love will want You & Me, Etc.
B+
Last Updated: August 31, 2023 - 08:12