Comics / Manga / Yaoi Manga
His Favorite: Volume 3 - Boys' Love review
By Leroy Douresseaux
March 14, 2013 - 14:14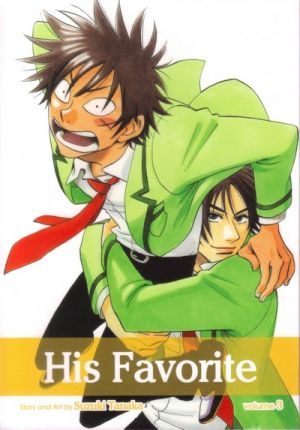 His Favorite Volume 3 cover image
Rated "T+" for "Older Teen"
His Favorite is a boys' love manga series from creator Suzuki Tanaka (Love Hurts). Boy's love (also known by the acronym, BL) depicts romantic relationships between male characters. His Favorite can be classified as "shounen-ai," the subset of BL that does not feature explicit depictions of sex between male characters.
His Favorite Volume 3 (Chapters 8 to 12) focuses on Yoshida, an awkward high school student, and Sato, the hottest guy in school. Sato is in love with Yoshida, but the latter things the former wants to play around too much and is not really serious about anything, especially love. Meanwhile, all the girls in school are crazy about Sato, and they think that Sato and Yoshida are just really close friends. That's why they insist that Yoshida help them get closer to Sato.
Yoshida and Sato's classmates, Yamanaka and Torachin, are in a similar predicament. Torachin's frequent fights have left him with a bruised, unattractive face, which scares the girls – sometimes to tears. Yamanaka thinks Torachin is just right, but Torachin doesn't think that Yamanaka is ever serious – about anything.
THE LOWDOWN: As boys' love manga goes, His Favorite is tame. It doesn't even have the heat of the more complicated shojo teen romances (such as a Honey Hunt). Instead, it is deliberately, almost stubbornly playful. Creator Suzuki Tanaka offers comedy and slapstick; there are misunderstandings and kissing.
Sex is far way and talked about as something that will, should, or even might happen, but does not happen in the text or seemingly even "off camera." The characters are funny in how clueless they are, or perhaps, they are not clueless. It is a peculiar kind of tunnel vision from which they suffer… maybe.
POSSIBLE AUDIENCE: Readers looking for gentle boys' love comedy will want to try the SuBLime series, His Favorite.
Rating: B /10
Last Updated: August 31, 2023 - 08:12