Comics / Manga / Yaoi Manga
Il Gatto Sul G. III (Boys' Love)
By Leroy Douresseaux
June 27, 2009 - 21:02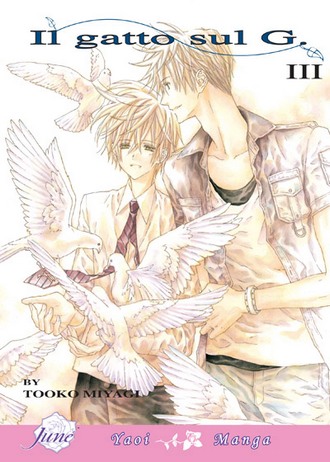 Il Gatto Sul G. III cover image is courtesy of Anime Castle Books.
Rated "YA" for "Mature Audiences 16+"
Riya Narukawa has two personalities – one white and one black. Black Riya is aggressive, childish, and wild. White Riya is a timid, perfectionist honor student, and is mostly unaware of the existence of Black Riya. Black is in love with Atsushi Ikeda, a gentle college student who looks after Riya. White is in love with his teacher, Haruto Kousaka, who doesn't mind returning the amorous feelings. Riya Narukawa is also a brilliant, young violinist.
As Il Gatto Sul G. III opens, Black is unsure of himself, while White is starting to get a clue about the existence of the aggressive black personality. Meanwhile, Black is trying to seduce Atsushi, who doesn't want to take advantage of the Riya (although he does love Riya and does want to eventually have sex with him). Meanwhile, White makes the mistake of accepting an invitation to spend a night with his sempai, Haruto, which promptly turns hardcore.
Atsushi is desperate to help Riya emerge from the chaos that is his life, but Riya must come to terms with his past and also embrace his talent, even if it takes him away from Atsushi. Which personality will prove to be dominate, and will the dominance of one mean oblivion for the other? And who will be the man in Riya's life – now and forever; will it be Haruto or Atsushi?
THE LOWDOWN: While it has all the melodramatic theatrics of a daytime television soap opera, Il Gatto Sul G. III also has all the suspense and intensity of a summer potboiler, those bestselling novels that are always delightful page-turners for their readers. It is occasionally a melancholy romance, but the characters are so engaging, and the story has a way of holding the reader's interest panel by panel, page by page.
Tooko Miyagi's delicate line work and soft toning produce art that has a fine art sensibility. All the characterization, the moods, and plot twists are superbly conveyed in this beautiful art that looks as if it belongs in the pages of the New Yorker. The sets, backgrounds, and environments are pitch perfect for this sometimes languid, sometimes passionate tale of multiple strange love triangles.
POSSIBLE AUDIENCE: Readers who want the thick drama of boys' love with a side of hot yaoi will enjoy Il Gatto Sul G. III.
A-
www.digitalmanga.com
www.akadot.com
http://astore.amazon.com/yaoistore-20
Last Updated: August 31, 2023 - 08:12