Comics / Manga / Yaoi Manga
Stop Bullying Me (Boys' Love)
By Leroy Douresseaux
March 3, 2009 - 06:32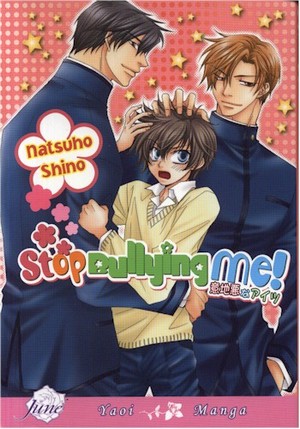 Stop Bullying Me cover image is courtesy of Anime Castle Books.
Rated "YA" for "Young Adults 16+"
In the boys' love manga, Stop Bullying Me!, Tomo Masaki is caught between that proverbial rock and a hard place, and they're both so sexy. One of them, however, is his brother, and the other is his brother's best friend.
The cute, but simple-minded Tomo has a brother complex; he absolutely adores and is madly in love with his older brother Ei Masaki, a popular senior at Kouryou Academy, where he is the Student Council President. Tomo, who is not a good student, studied hard and barely gained admission into Kouryou, but he did so in order to spend more time with Ei. Now, that he's attained his goal, Tomo suddenly finds Motoki Izumi, Ei's best friend and Vice-President of the Student Council, standing in his way.
Soon, Izumi is the bane of Tomo's existence, and he teases Tomo whenever he finds him in the Student Council office. So irritated by Izumi, Tomo wonders, "Why can't he just leave me alone?" Soon, however, Tomo is wondering, "Why does my heart go 'BADUM' whenever he bullies and teases me?" Is Tomo falling in love with his tormentor Izumi, and what will Ei think if it's true?
THE LOWDOWN: What a total surprise for me! Stop Bullying Me! was an absolute joy to read. Because boys' love (BL) titles don't feature explicit depictions of sex (yaoi manga), they need strong romantic drama or comedy to replace the heat they lose without portrayals of hot passion. Stop Bullying Me! has so much silly comedy that it's a frothy delight that slakes the boys' love thirst like a sweet, lip-smacking ice cream float.
What makes it successful as a comic BL narrative is the simplicity of both its plot and structure. Creator Natsuho Shino plays up the familiar elements of BL. Her hero, Tomo Masaki, is a short of stature boy with girlish facial features and personality traits (and an early 1990's Halle Berry hairdo). Tomo is the uke or bottom in a gay sexual relationship. Ei and Izumi are tall, handsome, athletic high school boys. As the seme or tops in a gay sexual relationship, they also protect Tomo; indeed, they pet him and spoil him – treating him as if he were much younger than high school age and as if they were a bit older than high school students. The protected girl-boy, Tomo, is free to chase love, essentially making this scenario about the pursuit of love work.
Shino uses Tomo, a ditzy airhead who fits just about every stereotype of the not-too-bright, boy-crazy teen girl, to create the comic scenario. Tomo's incestuous longings for his brother Ei create much conflict and many dilemmas – even more so once Tomo becomes smitten with Izumi. It's a playful comic romp that is such a joy to read that I was sorry to see it end.
POSSIBLE AUDIENCE: BL readers looking for romance as a comedy of errors and misadventures will enjoy Stop Bullying Me!
A+
www.digitalmanga.com
www.emanga.com
Shop for Yaoi Delights.
Last Updated: January 24, 2022 - 11:00