SuBLime Debuts First Boys' Love/Yaoi Titles
By The Editor
June 13, 2012 - 13:41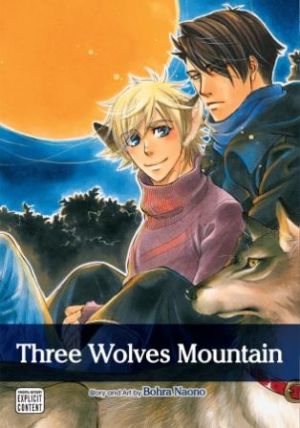 Three Wolves Mountain cover image
GLOBAL YAOI/BOYS' LOVE MANGA PUBLISHER SuBLime DEBUTS FIRST PRINT RELEASES WITH "HONEY DARLING" AND "THREE WOLVES MOUNTAIN"
Bold Yaoi/Boys' Love Manga Publisher Releases Two Acclaimed New Titles This June
SuBLime, the global yaoi manga (graphic novel) publishing initiative between VIZ Media and Japan's Animate, Ltd. (Animate), delivers its first pair of print editions with the worldwide debuts of HONEY DARLING, by Norikazu Akira, and THREE WOLVES MOUNTAIN, by Bohra Naono. Both new manga (graphic novel) are available now, are rated 'M' for Mature Readers, and carry an MSRP of $12.99 U.S. / $14.99 CAN.
Digital versions are available worldwide in a download-to-own format for $5.99 each from www.SuBLimeManga.com, are viewable as a PDF on any enabled eReader device or computer, and also may be accessed via the online manga viewer found on the web site.
HONEY DARLING by Norikazu Akira • Rated 'M' for Mature Readers • MSRP: $12.99 U.S. / $14.99 CAN • Available Now!
Chihiro drifts through life with no purpose, going from girl to girl, until one day he finds an abandoned kitten in a box. He quickly falls in love with little Shiro and couldn't imagine his life without her. One evening, Chihiro finds Shiro has fallen ill. While searching aimlessly for an animal hospital, he runs into Kumazawa, a local vet who takes Shiro into his care. Watching Kumazawa in action, Chihiro realizes he wishes to learn the value of life and asks Kumazawa to consider hiring him at the vet clinic. Kumazawa agrees, but only if Chihiro serves as his live-in housekeeper. Has Chihiro finally found his purpose in life, or will living with the handsome vet be a little too much to handle?
Norikazu Akira is also the creator of the manga series Twin's Labyrinth, Heart Strings, and Beast & Feast.
THREE WOLVES MOUNTAIN by Bohra Naono • Rated 'M' for Mature Readers • MSRP: $12.99 US / $14.99 CAN • Available Now!
Way up in the mountains, far from any major cities or towns, Kaya Susugi runs a small café by day and guards a haunted cemetery by night. Then, one night, he comes across werewolf brothers Taro and Jiro. Cheerful but klutzy younger brother Jiro quickly falls head over heels for the capable loner Kaya. What results is a dive into the hot, tail-twitching delight of werewolf mating season!
Bohra Naono has created over 20 manga series, some of which have been adapted into drama CDs. She has also published "doujinshi" (independent comics) under the pen name of "NAIFU." THREE WOLVES MOUNTAIN is Bohra Naono's second English-language release, with her first being Yokai's Hunger.
"The summer heats up in a sexy way with our publication of THREE WOLVES MOUNTAIN and HONEY DARLING in June," says Jennifer LeBlanc, Editor, SuBLime. "THREE WOLVES MOUNTAIN creator Bohra Naono is one of the most requested creators among yaoi fans. In THREE WOLVES MOUNTAIN, readers will learn of all the strange things that go bump in the night at a foreboding cemetery as well as the love that binds two people together – even if one of them is a werewolf! HONEY DARLING is also not to be missed with its heartwarming tale of an unlikely love between a vet and his live-in housekeeper."
For up-to-date news and release information, please visit the SuBLime website at www.SuBLimeManga.com, or follow SuBLime on Twitter at @SuBLimeManga and Facebook at facebook.com/SuBLimeManga.
Last Updated: August 31, 2023 - 08:12