Comics / Manga / Yaoi Manga
The Object of My Affection (Boys' Love)
By Leroy Douresseaux
August 15, 2010 - 14:05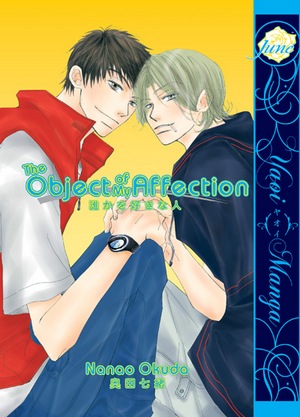 The Object of My Affection cover image
Drama/Romance; Rated "16+ Young Adult"
The Object of My Affection is a boys' love manga from Nanao Okuda. A collection of interconnected tales, it follows a group of young basketball players as their bonds of friendship from junior high through high school and into college turn into romantic love.
The book begins with the meeting of junior high student, Hiroki Wakamiya, and talented high school basketball player, Wataru Anzai. The shorter and younger Wakamiya issues a challenge to the older and taller Anzai, whom he admires. One day, I'll be as good as you, Wakamiya promises.
Five years later, both are attending Kanan University, where Anzai is already a member of the basketball team, which Wakamiya also joins. Now, taller than Anzai, Wakamiya hopes to finally challenge him, but he gets some shocking news about Anzai that may stand in the way of them playing together. Will it also stand in the way of Wakamiya's true feelings for Anzai? Also, in a flashback tale, high school basketball player, Yoji Suwanai, secretly yearns to romance his teammate, Wataru Anzai. Anzai plays coy, but teammate Tokuya Myojin is ready to show his true feelings!
THE LOWDOWN: Boys' love manga depicts the romantic relationships between male characters (usually teen and 20-somethings). One of its subsets, yaoi, includes explicit depictions of sex between male lovers. The other subset, shounen-ai, does not. The Object of My Affection is shounen-ai. Its sparse depictions of sex between its slim, athletic male characters is not exactly chaste, but they also wouldn't raise the eyebrows of many television viewers – well, at least HBO or Showtime viewers.
The Wakamiya-Anzai affair, which opens this volume, is quite well-written, and because both characters are stubborn and goal-driven, there is plenty of dramatic tension in this romance. The three-part "The Object of My Affection" arc, which depicts the Myojin/Anzai/Yoji semi-love triangle, is kind of flat compared to the opening arc. Myojin and Yoji are a bit too wishy-washy to make a romantic entanglement-conflict really work as drama. Their love makes a decent story, but reading it will probably make you wonder why the better romance, Wakamiya and Anzai's, doesn't get more story time.
POSSIBLE AUDIENCE: Boys' love lovers with like The Object of My Affection.
B
For more of me, try my blog at www.negromancer.com.
Last Updated: August 31, 2023 - 08:12