Comics / Manga / Yaoi Manga
Liberty*Liberty! (Boys' Love)
By Leroy Douresseaux
November 2, 2009 - 11:23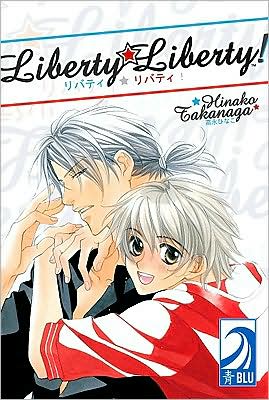 Liberty*Liberty! cover image is courtesy of barnesandnoble.com.
Romance/Comedy Rated OT" for "Older Teen"
The creator of You Will Fall in Love and You Will Drown in Love, Hinako Takanaga, presents the boys' love graphic novel, Liberty*Liberty! It is the story of love born in pile of garbage that blossoms in the offices of a small cable station.
Itaru Yaichi fled Tokyo to escape personal crisis, but he ended up drunk in an alley and passed out on a neighborhood trash heap. That's where Kouki Kuwabara, a cameraman and reporter for a local cable television station, finds him. During this rescue, the hapless Itaru breaks the prickly Kouki's camera, and now Itaru is in debt to Kouki and Himawari Cable Network for $2,000.
That is how Itaru and Kouki become roommates and coworkers. Kouki badgers Itaru to hurry up and get a job so that he can pay his debt and find his own place, but Itaru finds himself reluctant to leave – because he's falling deeper in love with his new roommate everyday. Kouki seems, however, to be in love with his quirky boss, a cross-dressing male named Kurumi Tokita, who is a perky young woman with a bubbly personality. Maybe, Itaru is misunderstanding that situation, and Kouki certainly seems to misunderstand Itaru's feelings, so will either man every really understand the other?
THE LOWDOWN: Sometimes, a story of romance and passion finds its passion in would-be lovers who can't or won't move the obstacles standing in the way of their love. In the case of Liberty*Liberty!, the fact that Itaru and Kouki take forever to come together as a couple is actually a good thing. Instead of presenting numerous sex scenes, creator Hinako Takanaga uses much of this graphic novel to develop the lead and supporting characters right before our eyes.
The masculine Kouki, with his loutish ways and the off-handed manner in which he treats people, and the doe-eyed Itaru, plucky and lovelorn like a shojo manga heroine, are stereotypes of the boys' love genre. However, Takanaga makes them interesting by emphasizing the things in their personality that make the duo clash, such as Itaru's clingy nature and Kouki's standoffish attitude. This is how the author encourages the reader to be interested in whether these two will come together, and it works.
POSSIBLE AUDIENCE: Readers looking for standard boys' love fare will enjoy the enjoyable Liberty*Liberty!
B+
Last Updated: August 31, 2023 - 08:12