Comics / Manga / Yaoi Manga
Millennium Darling 2006 (Boys' Love)
By Leroy Douresseaux
February 14, 2009 - 20:58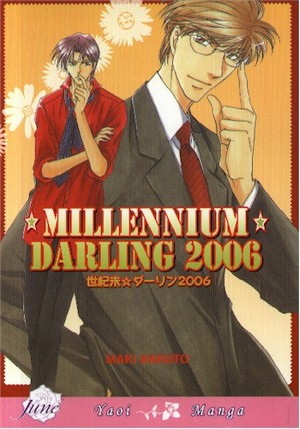 Millennium Darling 2006 cover image is courtesy of Amime Castle Books.
Rated "YA" for "Young Adults 16+"
Millennium Darling 2006 is the sequel to the Millennium Darling series (seven volumes), which also spawned an original video anime series (OVA). Created by Maki Naruto, Millennium Darling 2006 catches up with the series' favorite "darlings," Sentarou "Chitarou" Katsura and Sanshirou Sakamoto.
Sentarou and Sakamoto make for a rowdy couple, especially as the selfish and childish Sakamoto expects Sentarou to keep him happy. Then, Youichirou Taksugi, a kind of frenemy of Sakamoto's, tells him that being selfish and childish will only drive away Sentarou. After Sentarou cancels some plans the couple had for the day, Sakamoto goes into overdrive, believing that Sakamoto is cheating, so he begins an investigation of his lover's activities. Perhaps, Sakamoto should remember the saying that goes, "don't look for something, because you'll find it." Meanwhile, Sakamoto's father is plotting to get his son married, and he has arranged a marriage with Takasugi's sexy sister, Reiko.
THE LOWDOWN: As Boys' Love (BL) manga goes, Millennium Darling 2006 is a silly, lightweight romantic comedy. A collection of short stories and vignettes, it endears itself to readers through a series of absurd comic scenarios featuring cutesy characters and a huge helping of lovey dovey moments. Some characters overreact while others under react, so much so that this is more like slapstick comedy than BL drama, although this is boys' love as this book features many couplings and couples.
BL fans may especially enjoy the 33-page section of vignettes in the middle of the book which features these gay couples as loving nuclear families. Each family is complete with an infant child or toddler(s) – to which one of the men in each couple gave birth! This section – the most consistent in terms of narrative style – is a steady and pleasant read (and a bit crazy) compared to the frantic, two "Millennium Darling 2006" chapters, featuring Sentarou and Sakamoto, that open this volume.
POSSIBLE AUDIENCE: Readers who enjoy absurd scenarios and gay men paired as either bickering lovers or married couples living in a pastoral of domestic bliss will enjoy Millennium Darling 2006.
B
www.digitalmanga.com
www.emanga.com
Shop for Yaoi Delights.
Last Updated: August 31, 2023 - 08:12