Slam Dunk: Volume 2
By Leroy Douresseaux
January 28, 2009 - 15:19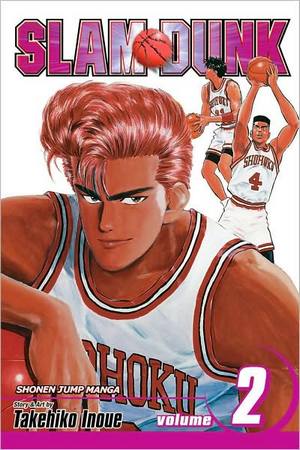 Slam Dunk 2 cover image is courtesy of barnesandnoble.com.
Rated "T" for "Teen"
Girls won't go out with Hanamichi Sakuragi, perhaps, because he's so intimidating and usually lets his fists do the talking. Even after he becomes a first year student at Shohoku Prefecture High School, he doesn't change his ways – picking fights with third years on the first day of school. But change is coming.
Hanamichi falls in love with Haruko Akagi, whom he thinks is also in love with him. Haruko, however, thinks that Hanamichi would be a good fit for Shohoku High's ailing basketball team, which is led by her brother, The Captain-Takenori Akagi. Haruko's loving gaze is actually for another first year student – basketball prodigy Kaede Rukawa, but Hanamichi is determined to prove himself at basketball, a game he's never played.
In Slam Dunk, Vol. 2 (New Power Generation), Hanamichi seethes while Kaede proves himself on the basketball court, leading a team of first years in a scrimmage against the starters and personally taking on Captain Takenori. Hanamichi talks his way onto the court and makes a disastrous move on Takenori. Hanamichi's athletic prowess, however, does not go unnoticed. Tatsuhiko Aota, the judo team captain and rival of Takenori, wants Hanamichi on his team. Tatsuhiko will go to great lengths to land Hanamichi – even tempting him with Haruko.
THE LOWDOWN: Even with its raucous comedy and teen romance, Slam Dunk is a basketball manga. This is evident in the way creator Takehiko Inoue draws his young ballers. These are tall, gangly, young men still growing into their bodies, so their physiques reflect this as a kind of lack of proportion, most evident when the basketball players stand still – especially the taller players. In fact, Inoue is good at capturing the general physical awkwardness of teens, which readers can see in the unrefined, almost crude sexiness of the female characters.
In a way, Inoue's story almost plays at a kind of physical or slapstick comedy, in particularly when there is a confrontation between athletes – such as Hanamichi's rough-and-tumble judo duel with Tatsuhiko. Inoue's love and knowledge of the game of basketball is clear when he composes scenes of scrimmages and training drills. He composes scenes on the court that are short but focus on the moments that encapsulate the speed, quickness, power, and athleticism of basketball players: Kaede's ability to maneuver around his opponents, Takenori's gorilla dunks, and the seething brawn coiled in that big red-headed dope, Hanamichi.
POSSIBLE AUDIENCE: Although it is a "Shonen Jump" title, Slam Dunk's excellence should attract a broad base of readers, especially those who love hoops.
A-
Last Updated: January 24, 2022 - 11:00