Slam Dunk: Volume 28 manga review
By Leroy Douresseaux
May 27, 2013 - 17:40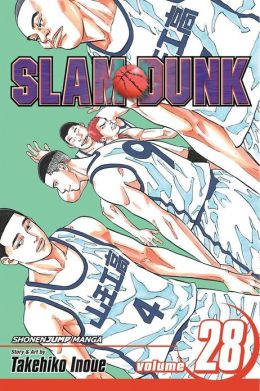 Slam Dunk Volume 28 cover image is courtesy of barnesandnoble.com.
Rated "T" for "Teen"
It is said that it takes dedication and discipline to be the best. The Shohoku High School basketball team does not want to come in second. Captain and starting center, Takenori Akagi, dreams of making it to the finals of Nationals. Hotshot freshmen, like superstar Kaede Rukawa and basketball novice, Hanamichi Sakuragi, could make Akagi's dream come true.
Slam Dunk, Vol. 28 (entitled Two Years; Chapters 243 to 251) is at Nationals. The story opens early in the second half of the second round game between Shohoku and Sannoh Kogyo, the defending national champions. Shohoku is down 24 points, a seemingly insurmountable lead.
Still, Sakuragi loudly declares that Shohoku is going to come back and win. To do so, Sakuragi is going to have to become a monster on the boards – no rebounds, no rings. However, it is Captain Akagi who has to up his game. If he can overcome Sannoh's wide load-big man, Kawata, Akagi may be able to help Shohoku gets its rhythm back and get back in the game.
THE LOWDOWN: I read that the Slam Dunk manga apparently helped popularize the sport of basketball in Japan. I can believe that, although I still have a hard time believing that a comic book can convey the speed, movement, explosive moments, sudden positioning, power, graceful ballet, and precision that is elite level organized basketball.
But there it is, right before me every time I read Takehiko Inoue's classic. Slam Dunk isn't just about basketball. Somehow, it is basketball.
POSSIBLE AUDIENCE: Readers looking for classic manga will want the Shonen Jump title, Slam Dunk.
Rating: A+ /10
Last Updated: August 31, 2023 - 08:12