Slam Dunk: Volume 27 manga review
By Leroy Douresseaux
March 24, 2013 - 10:07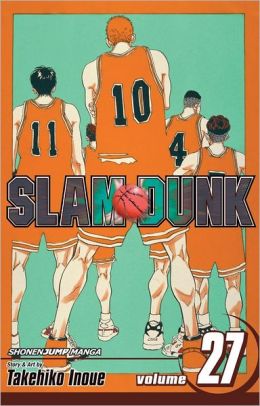 Slam Dunk Volume 27 cover image is courtesy of barnesandnoble.com.
Rated "T" for "Teen"
Who wants to come in second? Not the Shohoku High School basketball team. This is the last year the team can make its captain and starting center, Takenori Akagi's dream of making it to the finals of Nationals come true. Hotshot freshmen, like superstar Kaede Rukawa and basketball novice, Hanamichi Sakuragi, help Shohoku makes it to Nationals. But can they finish in first place?
Slam Dunk, Vol. 27 (entitled Shohoku in Trouble; Chapters 234 to 242) is at Nationals. This is the second round game between Shohoku and Sannoh Kogyo, the defending national champions. Shohoku has a two point lead going into the second half, but the game takes a drastic turn when Sannoh employs their vaunted pressure defense – the zone press. Coach Anzai benches Hanamichi, which infuriates the big redhead. Has coach and his team given up?
THE LOWDOWN: March Madness, also known as the NCAA Men's (and Women's) Basketball Championship Tournament, is, as of this writing, happening. It is one of those perfect times to read the Slam Dunk manga. Takehiko Inoue's ability to depict every facet of a live, organized basketball game is what made this one of the most popular manga ever. Slam Dunk also apparently help popularize the sport of basketball in Japan.
Slam Dunk Volume 27 affirms such a pedigree with its team-on-the-ropes plot. If you've ever been pulling for a team that is way behind in points, you will recognize the feelings and emotions that this volume of Slam Dunk arouses in you. As a sports manga, Slam Dunk is astounding.
POSSIBLE AUDIENCE: Readers looking for top notch sports comic books or for great manga will find that in the Shonen Jump, Slam Dunk.
Rating: A+ /10
Last Updated: August 31, 2023 - 08:12