Slam Dunk: Volume 24
By Leroy Douresseaux
October 1, 2012 - 17:37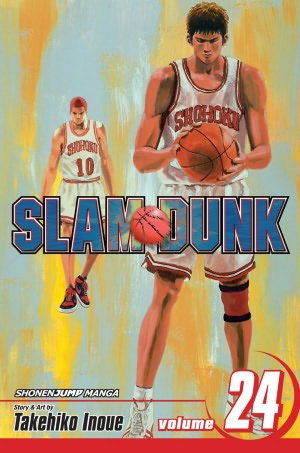 Slam Dunk Volume 24 cover image is courtesy of barnesandnoble.com.
Rated "T" for "Teen"
Winning isn't everything? Well, the Shohoku Prefecture High School basketball team doesn't want to come in second. Takenori Akagi, team captain and starting center, dreams of making it to the finals of Nationals, but, as a third year (essentially a senior), this is his last shot at a championship. With hotshot freshmen, like superstar Kaede Rukawa and basketball novice, Hanamichi Sakuragi, Shohoku makes it to Nationals, but they must learn to play together as a team if they are going to finish in first place?
As Slam Dunk, Vol. 24 (entitled For Victory) opens, it is the beginning of the second half of the game between Shohoku High and Toyotama High (of Osaka region). This is the debut game in the National Championship tournament for Shohoku.
Coach Anzai of Shohoku has a plan. He wants his team to match Toyotama's run-and-gun style. Can he do that with Rukawa badly injured by a blow from Toyotama's so-called "Ace Killer," Minami? If Shohoku can't beat Toyotama at their best, what chance would they have against Akita region champ, Sannoh Kogyo?
THE LOWDOWN: Recent volumes of the Slam Dunk manga have focused on the action of individual basketball games between Shohoku and their opponents. Volume 24 takes place on the basketball court, but like Vol. 22, it is also a change of pace. Creator Takehiko Inoue focuses not so much on the action of the game, as on the drama of the game. The story presents conflict between teammates, between opponents, between coach and players. The depiction of the action of a live game is, as usual, great, but the character drama here is just as kinetic.
POSSIBLE AUDIENCE: Readers looking for top notch sports comic books or great manga will find that in Slam Dunk.
Rating: A /10
Last Updated: August 31, 2023 - 08:12