Slam Dunk: Volume 26 manga review
By Leroy Douresseaux
February 2, 2013 - 09:29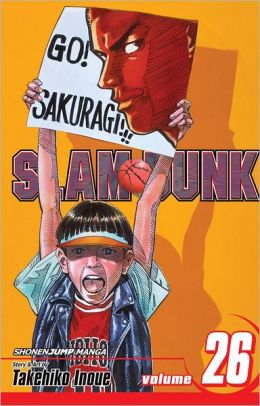 Slam Dunk Volume 26 cover image is courtesy of barnesandnoble.com.
Rated "T" for "Teen"
Shohoku High School is located in Kanagawa Prefecture. Shohoku has a basketball team. This is the last year to make team captain and starting center, Takenori Akagi's dream of making it to the finals of Nationals come true. Hotshot freshmen, like superstar Kaede Rukawa and basketball novice, Hanamichi Sakuragi, help Shohoku makes it to Nationals. But can they finish in first place?
As Slam Dunk, Vol. 26 (entitled Power Match) opens, it is early in the second round game between Shohoku and Sannoh Kogyo, the defending national champions. Hailing from Akita Prefecture, Sannoh is expected to win Nationals again. Less than a minute and a half into the game, however, underdog Shohoku has a four-point lead.
The top players from each team are dueling their counterparts from the other team. Akagi and Sakuragi must face off against Sannoh's dual big-man threat, Masashi Kawata and his younger brother, Mikio Kawata, who is even bigger than his BIG brother. Mikio's size and strength make up for his lack of experience, and he gets the better of Sakuragi. Now, Sakuragi has to bring his "A" game.
THE LOWDOWN: One of the many great things about the Slam Dunk manga is creator Takehiko Inoue's ability to depict every facet of a live, organized basketball game in a way that captures the act of that game. Slam Dunk Volume 26 moves into the intricacies of a big-time, means-something game: coaching decisions, shifts in momentum, the reluctance of players to change the way they play, etc.
That is why Slam Dunk is truly a legendary manga. That a comic book about basketball should make the reader feel as if he is in a real game is astounding and the sign of an astounding talent.
POSSIBLE AUDIENCE: Readers looking for top notch sports comic books or great manga will find that in the Shonen Jump, Slam Dunk.
Rating: A /10
Last Updated: August 31, 2023 - 08:12