Slam Dunk: Volume 22
By Leroy Douresseaux
May 27, 2012 - 15:58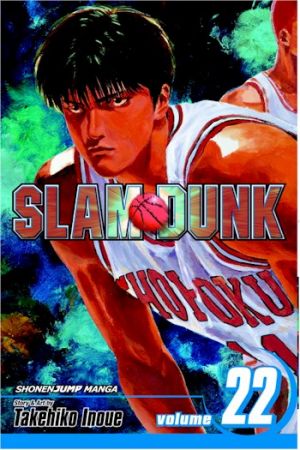 Slam Dunk Volume 22 cover image is courtesy of Anime Castle Books.
Rated "T" for "Teen"
If winning isn't everything, why is second place less desirable than first place? The Shohoku Prefecture High School basketball team has the dedication and discipline it takes to be the best. Takenori Akagi, captain and starting center, dreams of making it to the finals of Nationals, but, as a senior, this is his last shot at a championship. But to win, hotshot freshmen, like superstar Kaede Rukawa and basketball novice, Hanamichi Sakuragi, must learn to be part of a team.
As Slam Dunk, Vol. 22 (entitled The First Round) opens, the Shohoku High players learn something about Coach Anzai's past. What Rukawa takes from the story makes him determined to be the best player in Japan. With 10 days remaining before Nationals, Anzai sends his team to a week-long training camp with Josei High, another school going to nationals. Sakuragi, however, gets special attention.
THE LOWDOWN: Recent volumes of the Slam Dunk manga focused on the action of individual basketball games between Shohoku and other teams. Volume 22 is a change of pace, and it is a good one. Creator Takehiko Inoue offers vignettes that focus on the various characters' pasts as basketball players or participants. Inoue is quite good at character drama, but that is usually seen in his other work. Slam Dunk is a comedy, but on occasions, Inoue brings character and heart to the hoops action. Not just a great sports manga, Slam Dunk is a great comic book.
POSSIBLE AUDIENCE: Readers looking for a great sports manga or comic book will find that in Slam Dunk.
A-
Last Updated: August 31, 2023 - 08:12