Slam Dunk: Volume 31 Advanced manga review
By Leroy Douresseaux
November 23, 2013 - 11:31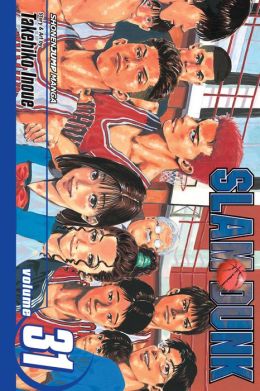 Slam Dunk Volume 31 cover image is courtesy of barnesandnoble.com.
Rated "T" for "Teen"
Winning isn't everything in the game of basketball, but who really wants to come in second? Shohoku High School basketball team does not want to come in second, and they believe that they have the dedication and discipline it takes to be the best. Captain and starting center, Takenori Akagi, dreams of making it to the finals of Nationals, and this season is his last chance. Hotshot freshmen, like superstar Kaede Rukawa and basketball novice, Hanamichi Sakuragi, could make Akagi's dream come true.
Slam Dunk, Vol. 31 (entitled Shohoku High School Basketball Team; Chapters 270 to 276) is the final volume of the series. Shohoku made it through the Prefectural Tournament to Nationals to play for the national championship of Japan. In the second round of the tournament, they face the defending national champions, Sannoh Kogyo (of Akita Prefecture).
After a good start, underdog Shohoku falls behind Sannoh by 24 points, before a furious rally cuts the deficit to eight points. Sannoh eventually returns the lead to 18, but another rally brings Shohoku within eight of tying the game. Hanamichi Sakuragi drives his team to fight back, and Kaede Rukawa's talent brings the points. Then, Sakuragi severely injures his back diving for a loose ball.
After a free throw, early in this volume, Shohoku has the lead down to five points with a little over a minute left in the game. Both teams know that they have to give their all, because only one of them is leaving the court victorious.
THE LOWDOWN: So the Slam Dunk manga has come to an end with Slam Dunk Volume 31. I'm not ready for it to be over. Because it apparently helped popularize the sport of basketball in Japan, Slam Dunk is obviously a classic manga. It makes one ask, "Is there a better sports comic book?" Is there another sports manga doing for a sport what Slam Dunk did for hoops in Japan? Could there ever be a basketball comic book or manga better than Slam Dunk?
Much of Vol. 31 has no dialogue or exposition. Takehiko Inoue uses graphical storytelling – illustrations and lettered sound effects as graphics. Inoue captures all that is grand and exciting about basketball as well as (if not better than) the best sports photographers. Reading Slam Dunk is as invigorating as watching a real, live basketball game, and I don't know if I'm ready to give that up. I guess this isn't really a goodbye, as VIZ Media will keep this iteration of Slam Dunk in print. I hope so; Slam Dunk is basketball depicted as art.
POSSIBLE AUDIENCE: Readers looking for the best of the best manga will want the Shonen Jump title, Slam Dunk.
Rating: A+ /10
Last Updated: August 31, 2023 - 08:12