Slam Dunk: Volume 30 manga review
By Leroy Douresseaux
October 4, 2013 - 07:47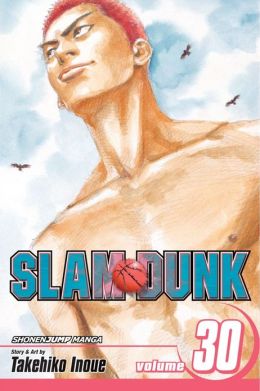 Slam Dunk Volume 30 cover image is courtesy of barnesandnoble.com.
Rated "T" for "Teen"
In the game of basketball, winning is not everything. Yes, it is! says the Shohoku High School basketball team. They do not want to come in second, and they believe that they have the dedication and discipline it takes to be the best. Captain and starting center, Takenori Akagi, dreams of making it to the finals of Nationals, and this season is his last chance. Hotshot freshmen, like superstar Kaede Rukawa and basketball novice, Hanamichi Sakuragi, could make Akagi's dream come true.
Slam Dunk, Vol. 30 (entitled Career; Chapters 261 to 269) is at Nationals. There are less than four minutes left in the second half of the second round game between Shohoku and Sannoh Kogyo, the defending national champions. Shohoku had cut a 24-point deficit to eight points, but Sannoh raised it back to 18. As the story opens, the score is 74 to 58 in favor of Sannoh.
The game is winding down, and Shohoku is working harder than ever to stage a grand comeback. The team's best players must step up their game. Can Rukawa run the offense and score points against tough man-to-man defense? Can Ryota Miyagi also score points? Will Takagi take it to his man? Is Sakuragi ready to be a savior?
THE LOWDOWN: Now, more than ever, I can believe that the Slam Dunk manga helped popularize the sport of basketball in Japan. Is there a better sports comic book? Could there ever be a basketball comic book or manga better than Slam Dunk?
In Slam Dunk Volume 30, a little more than two minutes of game time is played, but there are several flashbacks, extended and vignettes, which give a deeper look into the pasts of key players in this volume. I should note that about four minutes or so passed in Vol. 29. Creator Takehiko Inoue does not so much decompress the story as he maximizes so many moments in the basketball game he depicts. His page and graphic design is a comic book wonderland of dramatically perfect moments. He creates drama as well, if not better, than the best television basketball commentators. When I can't find a great basketball game, I reach for Slam Dunk.
POSSIBLE AUDIENCE: Readers looking for the basketball fan's basketball comic book will want the Shonen Jump title, Slam Dunk.
Rating: A+ /10
Last Updated: August 31, 2023 - 08:12