Slam Dunk: Volume 29 manga review
By Leroy Douresseaux
August 3, 2013 - 11:02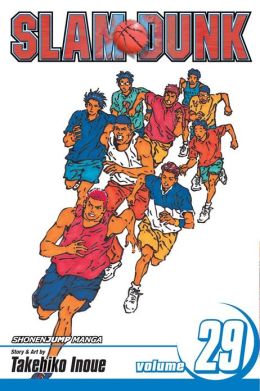 Slam Dunk Volume 29 cover image is courtesy of barnesandnoble.com.
Rated "T" for "Teen"
The Shohoku High School basketball team does not want to come in second. The players believe that they have the dedication and discipline it takes to be the best. Captain and starting center, Takenori Akagi, dreams of making it to the finals of Nationals, and this season is his last chance. Hotshot freshmen, like superstar Kaede Rukawa and basketball novice, Hanamichi Sakuragi, could make Akagi's dream come true.
Slam Dunk, Vol. 29 (entitled Talent; Chapters 252 to 260) is at Nationals. There are less than eight minutes left in the second half of the second round game between Shohoku and Sannoh Kogyo, the defending national champions. Shohoku has cut a 24-point deficit down to eight points.
Sannoh Kogyo is not the defending national champions for nothing. Sannoh's star player, Eiji Sawakita, is about to show why he's the best player in Japan. How will Kaede Rukawa, who may become the best player in Japan in the near future, handle a strike from Sawakita the "Super Ace?"
THE LOWDOWN: Of course, the Slam Dunk manga apparently helped popularize the sport of basketball in Japan, because it is so good as a comic book about basketball and actual game-play. Since creator Takehiko Inoue began Shohoku's run through the national high school basketball tournament, Slam Dunk has been way more interesting to read than many the actual NBA playoff games of the last two years have been interesting to watch. The cliffhangers that end each volume of the Slam Dunk graphic novels are as good as it gets. Slam Dunk is as good as it gets.
POSSIBLE AUDIENCE: Readers looking for classic manga and great comics will want the Shonen Jump title, Slam Dunk.
Rating: A /10
Last Updated: February 5, 2023 - 09:06