Slam Dunk: Volume 23 manga review
By Leroy Douresseaux
August 1, 2012 - 16:26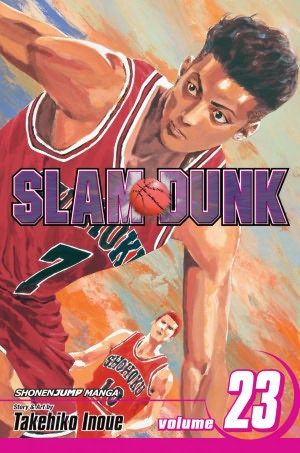 Slam Dunk Volume 23 cover image is courtesy of barnesandnoble.com.
Rated "T" for "Teen"
The Shohoku Prefecture High School basketball team has the dedication and discipline it takes to be the best. Takenori Akagi, team captain and starting center, dreams of making it to the finals of Nationals, but, as a third year (essentially a senior), this is his last shot at a championship. But to win, hotshot freshmen, like superstar Kaede Rukawa and basketball novice, Hanamichi Sakuragi, must learn to play together as a team. If winning isn't everything, why is second place less desirable than first place?
As Slam Dunk, Vol. 23 (entitled A Rank vs. C Rank) opens, Shohoku High has made it to Nationals. They arrive in Hiroshima City with being champions on their minds. But the team is in for a shock. The magazine, "Weekly Basketball," has Shohoku High listed as a "C" rank team, while their opening round opponents are "A" rank. Speaking of opponents, their opening round opponent is Toyotama High from the Osaka region. Toyotama is a scoring machine, and Shohoku is about to run right into the buzz saw of a run-and-gun team. Can they keep up or come up with a winning strategy?
THE LOWDOWN: Recent volumes of the Slam Dunk manga have focused on the action of individual basketball games between Shohoku and their opponents. Volume 22 was a change of pace, in which creator Takehiko Inoue offered readers character drama These vignettes that opened up windows into the various characters' pasts as either basketball players or as some other kind of participant in the game.
Volume 23 returns to the hard court. Just as other such volumes have, Vol. 23 reveals Inoue's love for and knowledge of the sport. As one of the world's great manga artists and comic book creators, Inoue perfectly captures basketball, a game in motion, in still images that seem to move on the very page on which they appear and sometimes seem to shiver over to the next page. Inoue's grasp of the figure in motion and his ability to depict and to pose bodies in action is high art.
POSSIBLE AUDIENCE: Readers looking for top notch sports comic books or great manga will find that in Slam Dunk.
Rating: A /10
Last Updated: August 31, 2023 - 08:12