Ikigami: Volume 3
By Leroy Douresseaux
November 5, 2009 - 14:56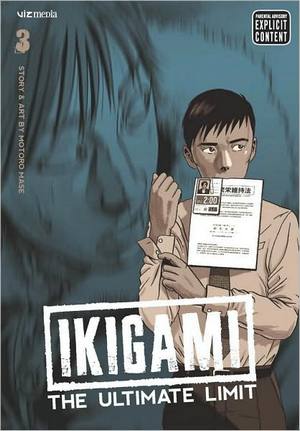 Ikigami Volume 3 cover image is courtesy of barnesandnoble.com.
Rated "M" for "Mature"
In the near-future, the government of Japan has finally made a move to do something about its apathetic, lazy, and unmotivated citizenry. Each day, a civil servant from the Ministry of Health and Welfare delivers an ikigami – a death paper – to one randomly selected citizen between the ages of 18 and 24. An ikigami is a notification informing a citizen that he or she will be killed within 24 hours. The weapon of choice is an explosive nano-capsule that was randomly injected into select children during childhood immunization. This is the centerpiece of the National Welfare Act – to remind people how precious life is.
In Ikigami, Vol. 3, Fujimoto, an ikigami messenger, delivers two more death notices to the "chosen." In Episode 5 ("Life out of Control"), Naoki Takimoto gets a death paper, but Naoki isn't your typical unmotivated youth. His mother is Kazuko Takimoto, a candidate in an upcoming important election, and she has been a terrible mother… and wife. Now, a son who could never get his mother to pay attention to him decides to use his last hours making sure she pays attention this time.
In Episode 6 ("The Loveliest Lie"), a brother forces the system that will kill him into submission so that he may give his younger sister a future. Eleven years ago, Satoshi Iizuka and his sister, Sakura, lost their parents in a car accident; Sakura lost her sight in that same accident. Just as his sister is about to have surgery to restore her vision, Satoshi receives an ikigami. Satoshi is determined to make sure his sister has her surgery, even if it means forcing Fujimoto and his bosses to help him.
Meanwhile, Fujimoto begins to investigate the history of the National Welfare Act and comes to a startling conclusion about the death messages.
THE LOWDOWN: Few comic books deal with science fiction in the intimately human way that Ikigami does. In fact, it is rare that works of speculative fiction are so relevant to our modern times, especially in such a stripped down fashion. Ikigami is low key and speaks about malevolent utopian governments and repressive societies, and makes it points with compelling drama that doesn't require giant robots, nasty supernatural artificial intelligences, and bullet time kung fu.
Creator Motoro Mase depicts deeply personal family dramas that are often private and hidden behind closed doors. Suddenly, society and the government intrude and what was a depiction of family matters takes on larger or more universal meaning. It makes for an engaging read that troubles the soul every page of the way.
POSSIBLE AUDIENCE: Readers who cherish social science fiction and psychological thrillers will like Ikigami.
A-
Last Updated: August 31, 2023 - 08:12