Ikigami: Volume 9 manga review
By Leroy Douresseaux
September 19, 2013 - 12:45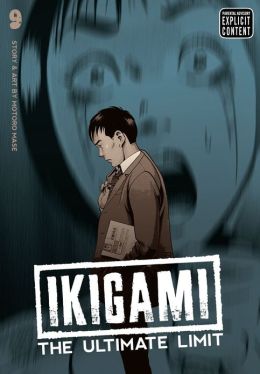 Ikigami Volume 9 cover image is courtesy of barnesandnoble.com.
Rated "M" for "Mature"
It is because the government of Japan finds the world to be a troubled place. It is because the government believes its citizens are apathetic, lazy, and unmotivated. That is why the government created the National Welfare Act, a law that mandates the killing of a portion of the population that is age 18 to 24. Each day, a civil servant, like Kengo Fujimoto, from the Ministry of Health and Welfare delivers an ikigami – a death paper – to a young citizen, informing the recipient that he or she will be killed within 24 hours.
In Ikigami: The Ultimate Limit, Vol. 9, two more young people receive an ikigami in two stories that share as a theme, the morality of immunization. As one struggles to protect vulnerable children, the other is a prisoner of fate, but the actions of both may earn them the label of being a "social miscreant."
In Episode 17 ("National Welfare Immunization"), Hitomi Oba is a nurse in the neonatal intensive care unit at Musashigawa General Hospital. The fate of the premature infants in her care and the attitudes of their parents trouble her. As she tries to adjust to a new position, Hitomi meets her new supervisor, Dr. Nishikawa, and the doctor's terrible secret brings Hitomi to the brink.
In Episode 18 ("Two Fallen in War"), the fate of two fellow students, Yoshiki Miike and Isokichi Futaba, are intertwined, perhaps for longer than they ever realized. After one of them receives an ikigami, the other seeks revenge for an old grievance, and now, only the grandfather of one can save them both by telling a story of the other boy's grandfather.
Meanwhile, the country moves towards war as the Federation becomes aggressive and Japan's hopes for protection rest in its "Ally."
THE LOWDOWN: Over the course of 18 story arcs, the Ikigami: The Ultimate Limit manga has quietly developed into a rich tale that balances plot, setting, and characters. Initially, the series seemed like a high concept manga that used characters as mere agents by which creator Motoro Mase delivered shocking scenes and heart-rending endings.
While Mase told intimate stories filled with deeply personal details about his characters, he also slowly unveiled the setting, providing more glimpses of a near-future Japan that were both broader and more detailed. Being about interesting times in a remarkable place is what moves Ikigami past being just a science fiction character drama with tragic overtones and poignant moments.
I always thought that the series had potential to be speculative fiction with social commentary – satirical, metaphorical, and literal. Ikigami: The Ultimate Limit Volume 9 delivers on that potential. Ikigami speaks of things to come, but with each story, Motoro Mase depicts a world that is like our own. Is this story a warning or a mirror held up to us or both?
Ikigami: The Ultimate Limit is an excellent and exceptional series. If Motoro Mase were British and Ikigami were published by DC Comics' imprint, Vertigo, it would already be a multiple-Eisner Award nominee, probably with at least one win.
POSSIBLE AUDIENCE: Readers looking for thought-provoking science fiction comic books will find that in Ikigami: The Ultimate Limit.
Rating: A+ /10
Last Updated: January 24, 2022 - 11:00