Ikigami: The Ultimate Limit Volume 5
By Leroy Douresseaux
June 10, 2010 - 13:59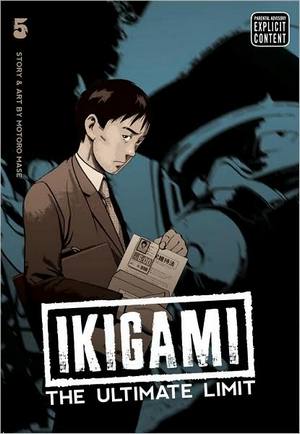 Ikigami Volume 5 cover image is courtesy of barnesandnoble.com.
Rated "M" for "Mature"
In the near-future, the government of Japan motivates its apathetic and unmotivated citizenry by imposing a death sentence on its young people. Each day, a civil servant from the Ministry of Health and Welfare delivers an ikigami – a death paper – to one randomly selected citizen between the ages of 18 and 24, which informs the citizen that he or she will be killed within 24 hours. The weapon of choice is an explosive nano-capsule randomly injected into select children during childhood immunization.
Ikigami: The Ultimate Limit, Vol. 5 finds Kengo Fujimoto the ikigami messenger delivering two more death notices to the "chosen," but these two cases cause him to doubt the National Welfare Act – the death notice act. In Episode 9 ("The Writing on the Wall"), Yukimasa Tsutsumori is the celebrated graffiti artist known as "F.K.," a fact only his family knows. Other graffiti artists copy his style, but how would all those "F.K." fans react if they knew the real reason Yukimasa is a graffiti artist? Will an ikigami shatter a legend… or make an even greater one?
In Episode 10 ("Honor and Duty"), Ikuhiko Sugita comes from a family who is heavily involved in the National Welfare Police. His father even considers getting an ikigami a miracle because of the odds of getting one (1 in 1000). But is getting an ikigami really a miracle, a blessing, or a curse? The National Welfare Act turns Ikuhiko's classmates against each other and teaches them all valuable lessons – in support of or against it?
THE LOWDOWN: Each volume of Ikigami: The Ultimate Limit contains two storylines (or graphic novellas). Other than the death messenger, Kengo Fujimoto's ongoing workplace drama, the individual stories are self-contained. I don't know if I'd call this fifth volume the best one yet because the other volumes have been of such high quality. I can say that this is my favorite, thus far.
In the two stories here, creator Motoro Mase has the people most affected by the ikigami system (teens, high school students, college students, etc.) confront a host of issues related to it, from the notion of the National Welfare Act's motto of "One for All" (instead of "All for One") to loyalty and conformity. Mase has these young people spying and reporting on one another, fighting and rebelling, and best of all, really thinking about the system and if it should be overthrown (instead of blindly rebelling). This is real social science fiction.
POSSIBLE AUDIENCE: Readers who cherish dystopian science fiction and psychological dramas will like Ikigami: The Ultimate Limit.
A
Last Updated: January 24, 2022 - 11:00