Ikigami: The Ultimate Limit Volume 8
By Leroy Douresseaux
August 12, 2012 - 16:07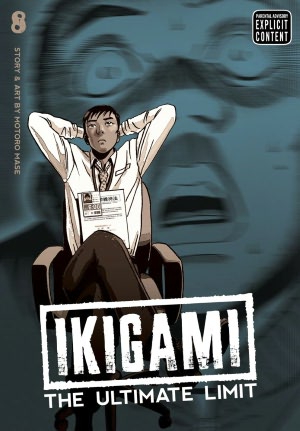 Ikigami Volume 8 cover image is courtesy of barnesandnoble.com.
Rated "M" for "Mature"
The government of Japan finds the populace apathetic, lazy, and unmotivated, so it created the National Welfare Act. This law mandates the killing of a portion of the young population. Each day, a civil servant, like Kengo Fujimoto, from the Ministry of Health and Welfare delivers an ikigami – a death paper – to a randomly selected citizen between the ages of 18 and 24. This notice informs that person that he or she will be killed within 24 hours.
In Ikigami: The Ultimate Limit, Vol. 8, two downtrodden young men try to remove what is ugly in their lives. In Episode 15 ("Crime and Punishment"), Masato Kitamura kills Hideki Mitsuya in a traffic accident. After spending nearly two years in jail, Kitamura struggles to find a way to make up for the accident. Meanwhile, Kitamura's bitter fiancé, Yuki Hiraoka, just wants payback. Then, someone gets an ikigami.
In Episode 16 ("The True Face of Love"), Osamu Kimura had the face of a pig, but after extensive cosmetic surgery, he is a new man – or at least, looks like one. He is ready to lose his virginity and be a success at his job, but when he spots Ruriko Yazawa, his unrequited love from junior high and high school, he is surprised by what he finds. Then, an ikigami arrives. Meanwhile, ikigami messenger, Kengo Fujimoto, is sure someone is following him. Are his employers spying on him?
THE LOWDOWN: In my last review of the Ikigami: The Ultimate Limit manga, I admitted to being somewhat tired of reading the series, but not because it was bad or even boring. This thoughtful social science fiction comic book is filled with heart-rending stories of the doomed young people, and sometimes, it gets to me. Truth is, however, I was missing the intense, poignant, invigorating, life-affirming, disheartening, gloomy, and infuriating tales. I'm glad that VIZ Media sent me a review copy of this new volume. You may have to buy your own print or digital copy, but it will be worth it.
POSSIBLE AUDIENCE: Readers looking for thought-provoking science fiction will find it in Ikigami: The Ultimate Limit.
Rating: A /10
Last Updated: August 31, 2023 - 08:12