Ikigami: Volume 2
By Leroy Douresseaux
August 4, 2009 - 20:23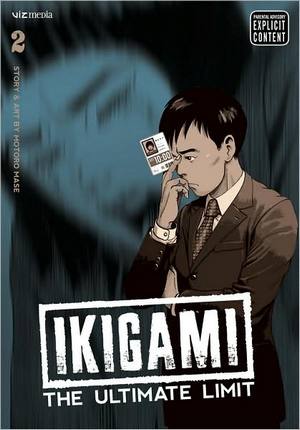 Ikigami Volume 2 cover image is courtesy of barnesandnoble.com.
Rated "M" for "Mature"
In the near-future, the government of Japan has finally made a move to motivate its apathetic citizenry. Each day, a civil servant from the Ministry of Health and Welfare delivers an ikigami – a death paper – to one randomly selected citizen between the ages of 18 and 24. The centerpiece of the National Welfare Act, this notification informs the citizen that he or she will be killed within 24 hours via an explosive nano-capsule that was randomly injected into him or her during childhood immunization.
In Ikigami, Vol. 2, Fujimoto, an ikigami messenger, delivers two more death notices to the "chosen." In Episode 3 ("The Pure Love Drug"), budding film/TV director Takeshi Katsumura is finally seeing his fortunes rise, after being in something of a malaise after graduating from film school. His addiction to a popular new drug, Ateromin, which is said to extend life, threatens to derail his now-budding career. His girlfriend, Kazusa Teranishi, refuses to watch Takeshi fail again; then, an ikigami comes into their lives.
In Episode 4 ("The Night He Left for War"), Shoji Takebe was a terrible student, even by the standards of the classes for slower students. Now, Shoji works at a nursing home, but even here he is more clumsy than competent. Then, by chance, he discovers a way to get, Shima Asakura, a wheelchair-bound, 80-something resident, to care about the rehabilitation that might help her walk again. Now, an ikigami threatens that progress.
Meanwhile, Fujimoto struggles with his own doubts about his job as an ikigami messenger.
THE LOWDOWN: After introducing a shocker of a concept in the first volume, manga-ka Motoro Mase, in the stories that make up this second volume of Ikigami, presents a more intimate portrait of the costs of government sanctioned murder in the name of altruism. Mase's depictions of the desperation of people who know for a fact that this is indeed the last day of their lives are heartrending, although they also sometimes border on the macabre.
Ikigami is a complicated series, being a mix of speculative fiction, serial drama, single-episode soap opera, and social commentary. Mase's drama manages to be both intimate and broad. First, there is the intimate look at how a small circle of family, friends, and coworkers must face an impending death of someone loved and integral to their lives. In a broader manner, Mase presents a typical bureaucratic government ministry where the job of delivering a death notice is… well, just another job, one done with varying degrees of competence and deception.
POSSIBLE AUDIENCE: Fans of social science fiction may enjoy Ikigami.
A-
Last Updated: August 31, 2023 - 08:12