Ikigami: The Ultimate Limit Volume 7
By Leroy Douresseaux
August 8, 2011 - 11:27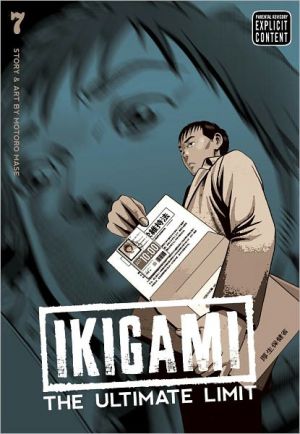 Ikigami: The Ultimate Limit Volume 7 cover image is courtesy of barnesandnoble.com.
Rated "M" for "Mature"
In order to motivate the apathetic citizenry, the government of Japan created the National Welfare Act. This law kills a portion of the young population. Each day, a civil servant, like Kengo Fujimoto, from the Ministry of Health and Welfare delivers an ikigami – a death paper – to a randomly selected citizen between the ages of 18 and 24. This notice informs that person that he or she will be killed within 24 hours.
In Ikigami: The Ultimate Limit, Vol. 7, two young men who play a big part in the lives of others face death while at a crossroad in their lives. In Episode 13 ("Photo of the Deceased"), Takaaki Morisawa is a young photographer who has left his training in analog cameras behind for the world of digital photography. With death looming, he must reconcile with his mentor.
In Episode 14 ("The Dream I Tried to Make Come True"), street dancer Katsunori Tsumura gives up his dream of dancing to approach it from a more business friendly way – essentially to appease his parents. Now, overweight and in a funk, he tries to get his groove back with death looming.
Meanwhile, ikigami messenger, Kengo Fujimoto makes his deliveries with a demanding observer present. Talk about pressure!
THE LOWDOWN: Honestly, I'm somewhat tired of reading Ikigami: The Ultimate Limit, but not because it is bad or even boring. In fact, it is one of the most thoughtful social science fiction comic books ever published in North America. The heart-rending stories of the doomed young people are getting to me. Intense, poignant, invigorating, life-affirming, disheartening, gloomy, and infuriating: who am I kidding? I gotta have it! Part of me wants to read these stories, which feel so real that it is as if this is happening to someone I know… or someone you know.
POSSIBLE AUDIENCE: Readers looking for thought-provoking science fiction will find it in Ikigami: The Ultimate Limit.
A
Last Updated: January 24, 2022 - 11:00