VIZ Media Publishes the Edgy "Ikigami"
By The Editor
May 14, 2009 - 11:40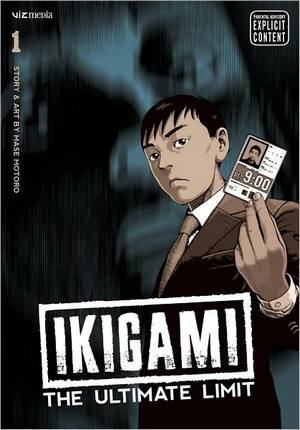 Cover image for Ikigami Volume 1 - courtesy of barnesandnoble.com.
VIZ MEDIA'S RELEASE OF NEW MANGA – IKIGAMI: THE ULTIMATE LIMIT WILL BRING ABOUT QUESTIONS OF JUSTICE, SOCIETY AND THE BEST WAY TO REALLY APPRECIATE LIFE
"Depending on how a person lives their last day, the ikigami can be a death sentence, or an invitation to really live."
VIZ Media, LLC (VIZ Media), one of the entertainment industry's most innovative and comprehensive publishing, animation and licensing companies, sends a chill down the spines of readers this month with the North American debut of Motoro Mase's harrowing and suspenseful manga series – IKIGAMI: THE ULTIMATE LIMIT – available now. IKIGAMI: THE ULTIMATE LIMIT is rated 'M' for Mature Audiences and carries an MSRP of $12.99 US / $15.00 CAN.
In a futuristic dystopian Japan there is new slant on crime deterrence with a sinister policy with an ironic twist. Each day a randomly-selected person is put to death to remind the population of the very value of life. Those who are condemned to die receive an official government notice the day before, called an ikigami, alerting them of impending doom in 24 hours.
"Dear Citizen: You've no doubt noticed that the world is a troubled place. People are apathetic, lazy, unmotivated. You've probably asked yourself: Why isn't anything being done to stop this systematic decline? Well, you'll be happy to know that measures have been taken. We, your government, have decided society needs a wake-up call. So beginning today, we will randomly select a different citizen who will be killed within 24 hours of notification. We believe this will help remind all people how precious life is, and how important it is to be productive, active members of society… CONGRATULATIONS! YOU HAVE BEEN RANDOMLY SELECTED BY THE GOVERNMENT…TO DIE IN 24 HOURS!"
"IKIGAMI: THE ULTIMATE LIMIT presents a stark vision of the future echoed in George Orwell's 1984 and in films such as The Matrix and Soylent Green. It asks tough questions about the real value of life, crime and deterrence and what's best for the majority," says Joel Enos, Senior Editor, VIZ Media. "Readers will undoubtedly reflect upon their own lives and what they hold dear as they witness how each of the persons that receive an ikigami react to their sentence. Is there an urge to retaliate and become angry or simply accept one's fate for the betterment of larger society? Readers will surely ponder their own answers in this intense new series."
IKIGAMI: THE ULTIMATE LIMIT originally debuted in Young Sunday and the manga has sold more than one million copies in Japan. Its popularity further inspired a live-action film that was released in 2008 in Japan starring the popular young actor, Shota Matsuda. Acclaimed artist and manga creator, Motoro Mase was also nominated for Shogakukan's 43rd Grand Prize for best comic by a new artist.
Last Updated: September 6, 2021 - 08:15