Ikigami: Volume 10 manga review
By Leroy Douresseaux
August 22, 2014 - 15:20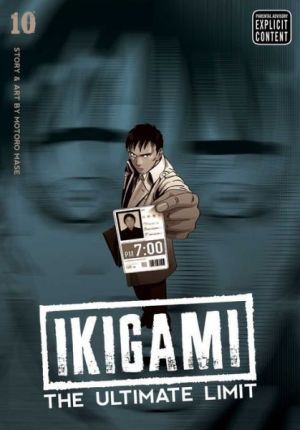 Ikigami: The Ultimate Limit Volume 10 cover image is courtesy of barnesandnoble.com.
Follow me on
Twitter
.
Rated "M" for "Mature"
The government of an unnamed country (apparently not Japan) finds the world to be a troubled place. It is because the government believes its citizens are apathetic, lazy, and unmotivated. That is why the government created the
National Welfare Act
, a law that mandates the killing of a portion of the population that is age 18 to 24. Each day, a civil servant, like
Kengo Fujimoto
, from the
Ministry of Health and Welfare
, delivers an
ikigami
– a death paper – to a young citizen, informing the recipient that he or she will be killed within 24 hours.
In
Ikigami: The Ultimate Limit

, Vol. 10
, one young man receive an ikigami. A young woman struggles with her past as the mother of a critically ill child. And an ikigami messanger comes to face with his profession and his future.
In Episode 19 ("Entrusted Words"),
Mamoru Nakagami
is ready to kick ass in service of the
National Welfare Police
. However, even his fellow thug cops think that he is too violent. Apparently, there is a reason for Nakagami's history of violence. When he receives his ikigami ("death notice"), Nakagami has to decide what he is going to do with the last day of his life. A visiting official knows what she thinks he should do.
In Episode 20 ("Two Fallen in War"), series protagonist, Kengo Fujimoto, an ikigami messenger, gets into serious trouble. His boss,
Section Chief Seiichiro Ishii
, even makes him a troubling offer. It means that Fujimoto will meet
Dr. Nanase Kubo
again, a reunion that will decide both their fates.
Meanwhile, the country becomes deeply involved with its Ally's war against the
East Asia People's Federation
. Also, representatives from Japan visit the country to examine the National Welfare Act in its natural environment, as Japan considers adopting it.
THE LOWDOWN:
The
Ikigami: The Ultimate Limit
manga comes to an end with its most relevant volume to date, as much of its story mirrors our real world. With
Ikigami: The Ultimate Limit Volume 10,
Motoro Mase
finishes the series with his best work.
You don't want freedom or independence. Instead of making your own choices, you desperately hope someone will decide for you.
If there is a comic book that is spiritually close to George Orwell's
1984
, it is Ikigami. By balancing concept, commentary, and philosophy with plot, setting, and characters, Mase gives his series heart to go with his blunt criticism of an unjust society and barbarous government. John Werry's crisp English script makes the social commentary sharp and gives intimacy and immediacy to the character drama.
I ended my review of Vol. 9, with this:
Ikigami: The Ultimate Limit
is an excellent and exceptional series. If Motoro Mase were British and Ikigami were published by DC Comics' imprint, Vertigo, it would already be a multiple-Eisner Award nominee, probably with at least one win. I stand by that; Vol. 10 makes sure of that.
POSSIBLE AUDIENCE:
Readers looking for thought-provoking science fiction comic books will have ten volumes of
Ikigami: The Ultimate Limit
to enjoy.
Rating: A+ /10
Last Updated: August 31, 2023 - 08:12