Ikigami: The Ultimate Limit Volume 6
By Leroy Douresseaux
August 5, 2010 - 11:50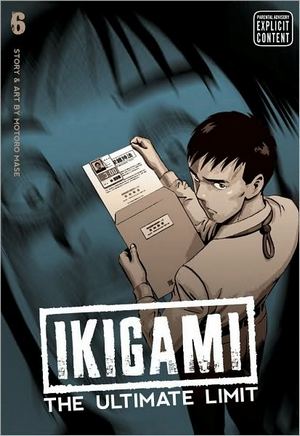 Ikigami Volume 6 cover image is courtesy of barnesandnoble.com.
Rated "M" for "Mature"
To motivate its apathetic citizenry, the government of Japan imposes a death sentence on its young people. Each day, a civil servant, like Kengo Fujimoto, from the Ministry of Health and Welfare delivers an ikigami – a death paper – to a randomly selected citizen between the ages of 18 and 24, informing that person that he will be killed within 24 hours. The weapon of choice is an explosive nano-capsule randomly injected into select children during childhood immunization.
In Ikigami: The Ultimate Limit, Vol. 6, a mysterious new group of actors enters the story. Episode 11 ("Life Papers") focuses on Kazuma Yamazaki, a young man who has been kicked around all his life. Now, he's just received his ikigami and decides to fight the system – even if it costs his uncle and aunt the bereavement benefit. Meanwhile, Fujimoto discovers the existence of a group calling itself New Life Revolution Union, an anti-National Welfare Act organization, and his colleague, Dr. Nanako Kubo, may be associated with it. Is she a social miscreant?
In Episode 12 ("The Truth Exposed"), Tomonori Ichijo is an anti-government activist, so when he gets his ikigami, he decides to strike back in a very public way. Now, his father, a once respected television journalist, must decide if he should help the government repress is son's message or if he should also fight the power.
THE LOWDOWN: This volume of Ikigami: The Ultimate Limit reveals more about the opposition to the ikigami program (National Welfare Act). This is nice because it suggests that this narrative is moving and is unified rather than just being static and focusing on individual episodes. Actually, being episodic is not a bad thing in the case of Ikigami. Creator Motoro Mase makes each episode a brilliantly told human drama. The decisions of the dying sometime turn particular stories into suspense-filled journeys.
POSSIBLE AUDIENCE: Readers looking for excellent science fiction comic books will find one in Ikigami: The Ultimate Limit.
A
Last Updated: January 24, 2022 - 11:00