Dawn of the Arcana: Volume 5
By Leroy Douresseaux
July 29, 2012 - 16:49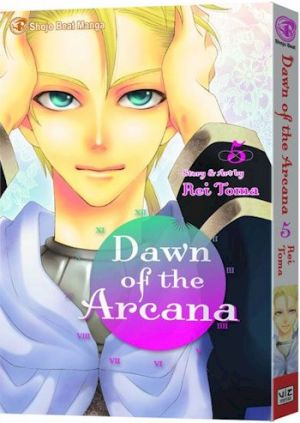 Dawn of the Arcana Volume 5 3D cover image
Rated "T" for "Teen"
On a small island, there are two kingdoms: fertile and prosperous Belquat of the south and poor and militarily weak Senan of the north. Princess Nakaba of Senan and Prince Caesar of Belquat enter into an arranged marriage for the sake of peace between the two countries. Nakaba moves to Belquat to live with her new husband in the royal castle, where there is, of course, intrigue. By the way, no one expected there to be love between this unlikely couple.
As Dawn of the Arcana, Vol. 5 opens, Nakaba, Caesar, and their attendants enter an Ajin village to warn the residents that Belquat intends to attack and destroy them. Ajin are demi-humans, a blend of animal and human, who often end up as slaves and soldiers in both Belquat and Senan. However, Caesar's half-brother, Cain, is right behind them, ready to lead the attack on the Ajin village. Nakaba's power, the Arcana of Time, allows her to see into the past, so she sees the treachery in Belquat's royal family.
THE LOWDOWN: I still have to admit that one of the reasons I like the Dawn of the Arcana manga is because it is so easy to read. Creator Rei Toma presents the story in a clean visual style that makes every emotion clear. The reader is immediately and forcefully drawn into what the character is thinking and feeling. The entire series is an argument in favor of "cartoony" comic book art, especially when it comes to figure drawing, over photo-realistic drawing styles.
At the heart of the narrative is a story of half-brothers/rivals, which depicts some of the controversies and disputes that can arise in mixed or blended families. The treatment of one of the sons here is appalling; I had to remind myself that this is not real, but I wanted to punch someone. Anyone who remembers John Singleton's Oscar-nominated film, Boyz 'n the Hood (1991), will remember the toxic mother-two sons triangle that ends up being tragic for all of them, mainly because of a mother who takes sides. There is something equally ugly and troubling in the Belquat royal family.
POSSIBLE AUDIENCE: Young readers looking for some edge in their shojo fantasy will want to try Dawn of the Arcana.
Rating: A- /10
Last Updated: August 31, 2023 - 08:12