Dawn of the Arcana: Volume 13 Advanced manga review
By Leroy Douresseaux
September 1, 2014 - 14:17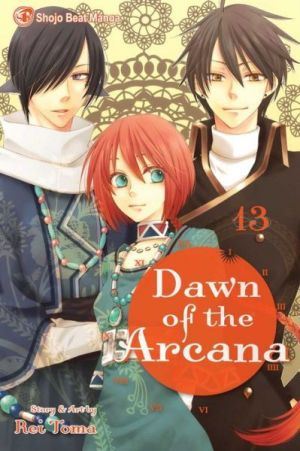 Dawn of the Arcana Volume 13 cover image is courtesy of barnesandnoble.com.
Follow me on
Twitter
.
Rated "T" for "Teen"
Two countries call a small island home. They are fertile and prosperous
Belquat
of the south and poor and militarily weak
Senan
of the north.
Princess Nakaba
of Senan and
Prince Caesar
of Belquat enter into an arranged marriage for the sake of peace between their two nations. Nakaba moves to Belquat to live with her new husband in the royal castle. As political forces threaten to tear their world apart, the two unexpectedly fall in love.
Nakaba rules Senan, a position she attained through cunning and skill. As
Dawn of the Arcana

, Vol. 13
(Chapters 50 to 52 and Final Chapter) opens, her longtime attendant and companion,
Loki
, asks that she give control of Senan to him. He wants it to be exclusively the home the
Ajin
; they are the demi-humans who have the ears and tails of beasts and who are used as slaves and soldiers in both Belquat and Senan. He wants all humans to live in Belquat, which would force the humans in Senan to leave their homes.
Caesar accepts, but for Nakaba, there is more pain of separation than she can tolerate. As time passes, she also accepts. However, another old friend arrives with shocking news. Now, Nakaba must use her power, the
Arcana of Time
, to discover the truth about her origins, but this particular use of her powers may very well kill her.
THE LOWDOWN:
The
Dawn of the Arcana
manga comes to an end. To the end, it remains a breezy read; it was as if my imagination simply swept across each volume in an instant.
Dawn of the Arcana Volume 13
is surprisingly downbeat, but that did not slow me down. I had to know. In addition to surprising revelations about the lead characters, there is also a disheartening character demise.
I honestly don't know if
Dawn of the Arcana
will be a memorable manga, but I think that more often than not, readers who discover it will be delighted by it. I think that there is more, much more, story to tell in the world of
Dawn of the Arcana
. Creator
Rei Toma
seems to have enough material and background for both a prequel series and a sequel or follow-up. The Arcana of Time has more to reveal
POSSIBLE AUDIENCE:
Young readers looking for an unusual and poignant shojo fantasy will want to try the Shojo Beat title,
Dawn of the Arcana
.
Last Updated: August 31, 2023 - 08:12