Dawn of the Arcana: Volume 8 manga review
By Leroy Douresseaux
January 27, 2013 - 15:23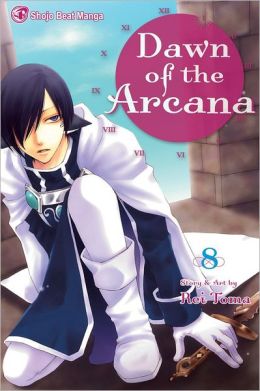 Dawn of the Arcana Volume 8 cover image is courtesy of barnesandnoble.com.
Rated "T" for "Teen"
Princess Nakaba of Senan and Prince Caesar of Belquat enter into an arranged marriage for the sake of peace between their two countries. Sharing a small island are fertile and prosperous Belquat of the south and poor and militarily weak Senan of the north. Nakaba moves to Belquat to live with her new husband in the royal castle, where there is, of course, intrigue. As political forces threaten to tear their world apart, the two expectedly begin to act like a real couple.
Dawn of the Arcana, Vol. 8 finds Nakaba, Caesar, and their attendants in the country of Lithuanel. Akhil, the fifth prince of Lithuanel, has asked Nakaba and company to help in the effort to securing Lithuanel's throne for the second prince, Azhal. Meanwhile, Caesar decides to return home to face possible charges for killing his brother, the first-born prince of Belquat, Cain. Nakaba users her power, the Arcana of Time, to witness a shocking event in her past of which she had no prior knowledge.
THE LOWDOWN: I always admit that one of the reasons I like the Dawn of the Arcana manga is because it is so easy to read. The main reason I like this series from creator Rei Toma, however, is because it is so good. The narrative is about love and hate, and about the extent to which individual characters go to express both.
There is much palace intrigue, and the number of characters, as well as subplots, grows every other chapter and with each graphic novel collection. However, the simple things: motivation, conflict, goals, etc. drive this shojo narrative exceptionally well.
POSSIBLE AUDIENCE: Young readers looking for some edge in their shojo fantasy will want to try the Shojo Beat title, Dawn of the Arcana.
Rating: A /10
Last Updated: August 31, 2023 - 08:12