Dawn of the Arcana: Volume 11 manga review
By Leroy Douresseaux
September 23, 2013 - 16:59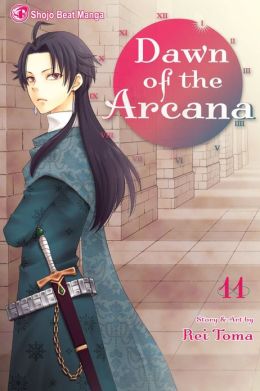 Dawn of the Arcana Volume 11 cover image is courtesy of barnesandnoble.com.
Rated "T" for "Teen"
Sharing an island are two countries: fertile and prosperous Belquat of the south and poor and militarily weak Senan of the north. Princess Nakaba of Senan and Prince Caesar of Belquat enter into an arranged marriage for the sake of peace between their two nations. Nakaba moves to Belquat to live with her new husband in the royal castle, where there is, of course, intrigue. As political forces threaten to tear their world apart, the two expectedly begin to act like a real couple.
After the death of his brother, Cain, by the hand of Nakaba's Ajin attendant, Loki, Caesar returns to Belquat and takes a new wife, Louise. Nakaba returns to Senan and marries Prince Adel, the son of Senan's King Morris.
As Dawn of the Arcana, Vol. 11 (Chapters 41 to 45) opens, the evacuation of a village near the mountains of Ulma continues. Nakaba rescues a young Ajin girl, Lala, which leads to her discovering that another person has the power of the Arcana of Time, as she does, but uses it differently from her. Later, Nakaba travels to Frankselk, a city of commerce, for a trade fair, where she hopes for a reunion. Meanwhile, she navigates the treacherous royal court of Senan and plots to get what she wants.
THE LOWDOWN: Let us start off with my usual admission that one of the reasons I like the Dawn of the Arcana manga is because it is so easy to read. Often I can finish reading Dawn of the Arcana in less than an hour. That is not a comment on the series' lack of quality. Creator Rei Toma presents a narrative that relies on graphics and art more so than dialogue, and her clean drawing style makes for storytelling in which plot, character, and setting are clear, even in the ambiguous emotional moments.
Still, I could have read Dawn of the Arcana Volume 11 for a few more hours. This volume, with its mood that suggests A Game of Thrones, sees Nakaba come into her own as a character. I have wondered how this series would be without a focus on Nakaba and Caesar as a couple. Nakaba can carry things on her own, and, at least to me, Dawn of the Arcana is better for it.
POSSIBLE AUDIENCE: Young readers looking for an unusual shojo fantasy will want to try the Shojo Beat title, Dawn of the Arcana.
Rating: A+ /10
Last Updated: August 31, 2023 - 08:12