Dawn of the Arcana: Volume 12 Advanced manga review
By Leroy Douresseaux
April 5, 2014 - 17:20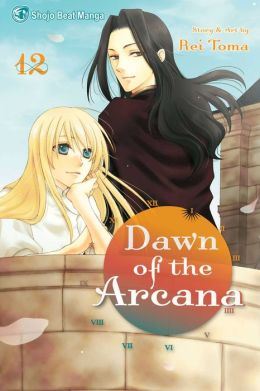 Dawn of the Arcana Volume 12 cover image is courtesy of barnesandnoble.com.
Rated "T" for "Teen"
Fertile and prosperous Belquat of the south and poor and militarily weak Senan of the north share an island. Princess Nakaba of Senan and Prince Caesar of Belquat enter into an arranged marriage for the sake of peace between their two nations. Nakaba moves to Belquat to live with her new husband in the royal castle. As political forces threaten to tear their world apart, the two expectedly fall in love.
As Dawn of the Arcana, Vol. 12 (Chapters 46 to 49) opens, Nakaba learns of an Arcana power from which King Guran of Belquat benefits. That encourages Nakaba to use her power, the Arcana of Time, to peer into Guran's past. Her attendant and close friend, Loki, discourages her desire to see the King's past.
Nakaba suspects the painful nature of what she is about to see, but will still use her power. She will witness the story of a young King Guran and of Sara, the bakery girl. There is also a previous possessor of the Arcana of Time. Later, Nakaba, Caesar, and Loki unite to stop a war.
THE LOWDOWN: Yes, the Dawn of the Arcana manga remains a breezy read. Dawn of the Arcana Volume 12 also reveals that this surprisingly continues to be an enjoyable series to read. The story of King Guran and Sara is poignant and shocking (but not as shocking as the final pages of Vol. 12). The reasons for the relationship between Belquat and Senan are also revealed, so readers will want this volume. Dawn of the Arcana is determined not to be a puffy shojo manga.
POSSIBLE AUDIENCE: Young readers looking for an unusual shojo fantasy will want to try the Shojo Beat title, Dawn of the Arcana.
Rating: A /10
Last Updated: August 31, 2023 - 08:12