Dawn of the Arcana: Volume 10 manga review
By Leroy Douresseaux
June 12, 2013 - 10:02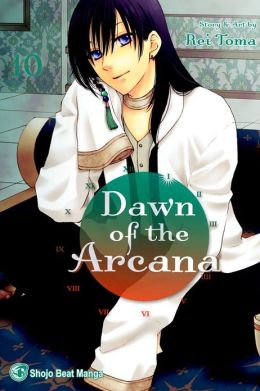 Dawn of the Arcana Volume 10 cover image is courtesy of barnesandnoble.com.
Rated "T" for "Teen"
There is an island shared by two countries, fertile and prosperous Belquat of the south and poor and militarily weak Senan of the north. Princess Nakaba of Senan and Prince Caesar of Belquat enter into an arranged marriage for the sake of peace between their two countries. Nakaba moves to Belquat to live with her new husband in the royal castle, where there is, of course, intrigue. As political forces threaten to tear their world apart, the two expectedly begin to act like a real couple.
After the death of his brother, Cain, by the hand of Nakaba's attendant, Loki, Caesar returns to Belquat. Nakaba remains on the island of Lithuanel to help the brothers, second prince, Azhal, and fifth prince, Akhil, secure the throne for Azhal over their brother, first born Prince Batal.
As Dawn of the Arcana, Vol. 10 (Chapters 37 to 40) opens, Nakaba, Akhil, and Azhal must leave the country. Azhal and Akhil's bid for the throne of Lithuanel has failed. The trio finds a small desert town in which to hide, but Batal's men are close behind them. Nakaba's power, the Arcana of Time, an ability see possible futures, reveals each brother's fate. Now, the shocking deal that Nakaba makes with one of the brothers is about to be revealed.
The return of Caesar to Belquat initiates a series of changes in Nakaba and Caesar's relationship. How does that affect the future?
THE LOWDOWN: As usual, I have to admit that one of the reasons I like the Dawn of the Arcana manga is because it is so easy to read. I finished reading Dawn of the Arcana Volume 10 in less than an hour.
In Dawn of the Arcana, Rei Toma has created a manga that deserves to be called a "good read." It is a fantasy about magic and fantastic creatures, but its strength is in the character drama. This is about love and war, politics, palace intrigue, betrayal, infidelity, family, and racial prejudice and bigotry. Sometimes, you might wonder if it really is a fantasy, but the important thing is that Dawn of the Arcana is good.
POSSIBLE AUDIENCE: Young readers looking for some edge in their shojo fantasy will want to try the Shojo Beat title, Dawn of the Arcana.
Rating: A /10
Last Updated: January 24, 2022 - 11:00