Dawn of the Arcana: Volume 4
By Leroy Douresseaux
May 23, 2012 - 15:00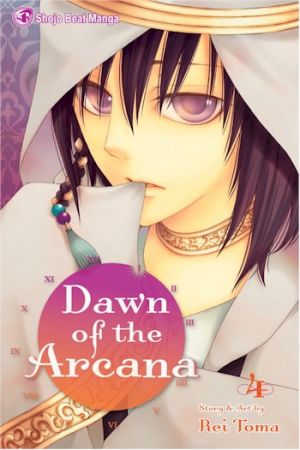 Dawn of the Arcana Volume 4 cover image is courtesy of Anime Castle Books.
Rated "T" for "Teen"
Fertile and prosperous Belquat of the south and poor and militarily weak Senan of the north are two kingdoms on a small island. Princess Nakaba of Senan is forced into an arranged marriage with Prince Caesar of Belquat in order to bring peace between the two countries. No one expected there to be love between this unlikely couple.
As Dawn of the Arcana, Vol. 4 opens, Prince Akhil of Lithuanel, a staunch ally of Belquat, prepares to leave after his stay. Before he leaves, Akhil will ask Nakaba one more time to leave with him. Next, Nakaba's power, the Arcana of Time, shows her the death of a girl she hasn't yet met. When she does meet her, how will Nakaba save the girl without revealing her powers?
THE LOWDOWN: Once again, I have to admit that one of the reasons I like the Dawn of the Arcana manga is because it is so easy to read, but now there are more reasons. I love the characters, and I am a sucker for soap opera theatrics and courtly intrigue, both of which this manga possesses in abundance.
I like the mix of characters; the personalities and their conflicts with one another bring them together to form a cohesive unit that works for these tales of schemes and deceptions. In fact, new character, Lemiria, brings a sweet and tart ingredient to the mix. Plus, the art by creator Rei Toma is pretty and is also cleanly designed for unambiguous visual storytelling.
POSSIBLE AUDIENCE: Young readers looking for shojo fantasy will want to try Dawn of the Arcana.
A-
Rating: A- /10
Last Updated: August 31, 2023 - 08:12