Dawn of the Arcana: Volume 2
By Leroy Douresseaux
January 25, 2012 - 11:29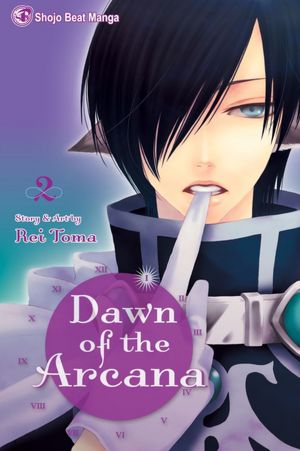 Dawn of the Arcana Volume 2 cover image is courtesy of barnesandnoble.com.
Rated "T" for "Teen"
There are two kingdoms on a small island. Belquat, fertile and prosperous, is on the south side, and Senan, poor and militarily weak, is on the north side. Princess Nakaba of Senan is forced into an arranged marriage with Prince Caesar of Belquat in order to bring peace between the two countries. Will it work? Will this even be a real marriage?
In Dawn of the Arcana, Vol. 2, Nakaba begins to have visions that someone is out to murder Caesar. Caesar also continues to woo Nakaba who still struggles over her feelings for her new husband. Her attendant Loki's plans further complicate matters. Meanwhile, Rito, an Ajin boy, reunites with Nakaba.
THE LOWDOWN: I have to admit that one of the reasons I like Dawn of the Arcana is because it is so easy to read. In fact, it's one of the easiest reads I've had in this last decade that I've been actively reading manga. Although this series involves court intrigue, a complicated marriage, and revenge, among other things, creator Rei Toma is straightforward in her storytelling. The narrative rarely strays from Nakaba, and every plot line involves her, yet the story is still engaging. This simplicity also makes it a great choice for young shojo readers.
POSSIBLE AUDIENCE: Young readers looking for shojo fantasy will want to try Dawn of the Arcana.
B+
Last Updated: August 31, 2023 - 08:12