Dawn of the Arcana: Volume 1
By Leroy Douresseaux
November 25, 2011 - 10:58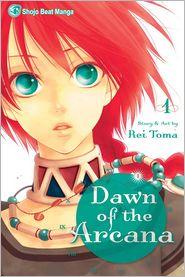 Dawn of the Arcana Volume 1 cover image is courtesy of barnesandnoble.com.
Rated "T" for "Teen"
On a small island, there are two kingdoms: fertile and prosperous Belquat on the south side and poorer Senan on the north side. Princess Nakaba of Senan is forced into an arranged marriage with Prince Caesar of Belquat in order to bring peace between the two countries. Will it work? Will this even be a real marriage?
In Dawn of the Arcana, Vol. 1, Nakaba arrives at the royal palace in Belquat and discovers that everyone is entranced by her red hair, which is not found amongst royalty in either Belquat or Senan. Also, accompanying her is her attendant, Loki, who is an Ajin. A race of demi-humans that have the ears and tails of beasts, Ajin are slaves and soldiers in both countries. Loki's presence causes more consternation, and Nakaba is soon a prisoner in the palace, and her new husband insists that she is his property.
THE LOWDOWN: Although she includes a few subplots, creator Rei Toma is as straightforward as she can be in telling Dawn of the Arcana. If he or she had the time, an adult reader could quickly read this entire graphic novel in one sitting. Except for some mild innuendo, Dawn of the Arcana is really a comic book for preteens and younger teen readers. It does not have the dramatic heft to really grab the attention or imagination, for that matter, of adult readers. It's not bad at all, but it is for younger readers, after all.
POSSIBLE AUDIENCE: Young readers looking for shojo fantasy will want to try Dawn of the Arcana.
B
Last Updated: August 31, 2023 - 08:12