World Trigger: Volume 7 manga review
By Leroy Douresseaux
October 28, 2015 - 13:05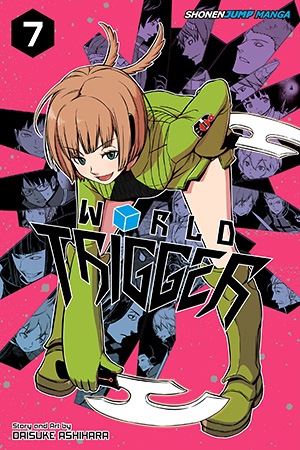 World Trigger Volume 7 cover image
Rated "T" for "Teen"
Yes, Earth is under constant threat from "
Neighbors
," invincible monsters from another dimension. There was a day when a gate opens in
Mikado City
, and Neighbors emerge, destroying much of the city and killing hundreds of citizens. However, an elite band of warriors, the
Border Defense Agency
or "
Border
," co-opts Neighbor technology and now fights back against their incursions.
Osamu Mikumo
, a 15-year-old high school student, is a Border trainee, and his friend,
Yuma Kuga
, is a Neighbor that looks like a human.
World Trigger

, Vol. 7
(
Outsmart Thy Neighbor
, Chapter 53 to 61) opens as a full-on Neighbors invasion commences. For the first time, however, the attack is led by humanoid Neighbors. They are from the Neighbor country of
Aftokrator
, and they are here to steal young, inexperienced Border agents. In fact, the powerful Aftokrator,
Ranbanein
, plans to test the best of Border. Plus, what does Osamu's fate have to do with the future?
THE LOWDOWN:
The
World Trigger
manga is proving to be one of the more inventive new battle manga. As creator
Daisuke Ashihara
expands the worlds and the mythology of the series, he also adds new concepts, characters, and beings.
World Trigger Volume 7
is mostly about battle, but Ashihara uses the debut of the Aftokrator to emphasize strategy. The chapters contained herein are not just fists of fury. This is combat on the razor's edge, and it is as thoughtful as it is thrilling. I can't wait for the next volume. I didn't think that I really like this, yet I really do like it.
POSSIBLE AUDIENCE:
Readers looking for a good alien invasion graphic novel series for young readers and youthful older readers will want to pull the
World Trigger
.
Rating: A /10
Last Updated: August 31, 2023 - 08:12