World Trigger: Volume 2 Advanced manga review
By Leroy Douresseaux
October 6, 2014 - 14:24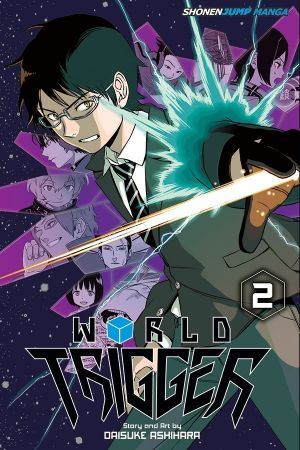 World Trigger Volume 2 cover image
Follow me on
Twitter
.
Rated "T" for "Teen"
Earth is under constant threat from invincible monsters called "
Neighbors
." One day, a gate to another world opened in
Mikado City
, and Neighbors emerged from the gate, destroyed much of the city, and killed hundreds of citizens. An elite band of warriors, the
Border Defense Agency
or "
Borders
," for short, co-opted Neighbor technology and now fight back against their incursions.
Osamu Mikumo
, a 15-year-old high school student, is a Border trainee, and his friend,
Yuma Kuga
, is a Neighbor that looks like a human.
As
World Trigger

, Vol. 2
(
Befriend Thy Neighbor!
, Chapter 8 to 16) opens, Osamu and Yuma join
Ai Kitora
to fight a Neighbor that is designed to drop bombs on human cities. Yuma assists Kitora in fighting the monster, but the feisty young Neighbor risks revealing his secret.
Later, Osamu asks Yuma to help a 13-year-old girl, Chika Amatori, who seems to attract Neighbors. Meanwhile, the
Miwa Squad
, suspicious of Osamu, begins tracking him.
THE LOWDOWN:
VIZ Media begins its North American publication of the
World Trigger
manga by releasing the first two volumes simultaneously.
World Trigger Volume 2
proves that Vol. 1 was not a fluke. This is a fantastic new shonen battle manga with an intriguing alien invasion concept.
I can't pretend. I love
World Trigger
; it may be might favorite new comic book of this year. It is simply and straight-forward. This is about fighting monsters. Osamu Mikumo is a good character as the boy-hero, and the rest of the cast is also good, especially the irascible Kuga Yuma. Creator
Daisuke Ashihara
is smartly making the Border leadership as formidable an opponent for Osamu as the Neighbor invasion. It seems our heroes will battle on at least two fronts.
POSSIBLE AUDIENCE:
Readers looking for a fun, sci-fi-monster graphic novel for young readers will want to pull the
World Trigger
.
Rating: A /10
Last Updated: August 31, 2023 - 08:12